Cranberry Coffeehouse: Sally Rogers and Howie Bursen
May 18, 2019 @ 7:30 pm

-

9:30 pm
T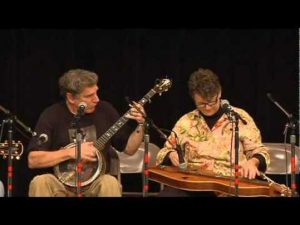 he May 18 Cranberry Coffeehouse features folksingers Sallie Rogers and Howie Bursen.
Rogers performs an evening of traditional, contemporary and original ballads and song, interwoven with stories taken from her life as a performer, wife and mother. Throughout her concerts, she accompanies herself on guitar and Appalachian dulcimer, or performs without accompaniment in a voice that needs no further enhancement. Reviewers have described her voice in superlatives ranging from "remarkable" to "mesmerizing." Much of the material performed by Rogers includes compositions of her own; many are considered classics of the folk and popular genre.
Bursen is a world-renowned banjo player and all around wonderful musician. His style is unique, creative, and nothing short of virtuosic. His background in folk music spans decades, is deep and expansive, and when combined with his warm, inviting performances, makes for an evening that is an enjoyment on so many levels. The combination of these two wonderful musicians will make for a delightful evening of traditional and contemporary music.
NEXT: John Kirk and Trish Miller, Saturday, June 1. Rescheduled from January when we got snowed out!!
7:30-9:30 p.m. at the Unitarian Universalist Congregation, 183 Riverside Dr., Binghamton. Handicap parking in the front. $10 suggested donation.
All musicians, vocalists, storytellers and dancers are encouraged to share their talent in the middle set, with performances limited to 5 minutes.
Handicapped parking is available in front of the church. Goodies will be available for purchase from the Cranberry Coffeehouse kitchen. For more details, visit: www.cranberrycoffeehouse.org.