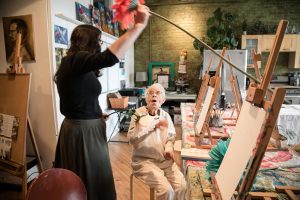 "Out and About" Programs for people with memory loss
Meet us at local museums, galleries and other art venues for our free interactive Out & About programs. People with memory loss and their loved ones are invited to connect, share stories, and enjoy our local culture. We keep programs small so that everyone can participate. Register early to reserve your seats. Call Christina at 607.240.6204 or click "Register" below to sign-up.
Out & About at Anthony Brunelli Fine Arts
Saturday, April 6, 2019 Repeats Saturday, May 4, 2019
11:00 AM-12:00 PM
186 State St, Binghamton, NY
View and discuss artwork at an internationally acclaimed contemporary art gallery.
Out & About at Your Home Library: The Audubon & Nature
Wednesday, April 24, 2019 Repeats Wednesday, May 8, 2019
1:30 PM-2:30 PM
107 Main St, Johnson City, NY
Join us for an interactive guided reading and discussion about John James Audubon and our relationship with nature.
The Memory Maker Project Turns 4!
Celebrate the Memory Maker Project's 4th anniversary and 1 year at our Gallery during this First Friday Art Walk. We will have work on display by artists at Bridges at Cornell Heights, as well a retrospectiveall, featuring staff favorites from the past four years. Enjoy live music, snacks and wine, and snag prints of work by artists living with memory loss.
First Friday Art Walk
Friday, April 5, 2019
6:00-9:00 pm
The Memory Maker Gallery
215 State St, Binghamton