Mural Banners on Display
August 29, 2019 @ 8:00 am

-

5:00 pm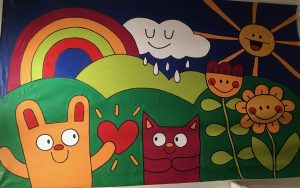 Seven eye-popping mural panels painted at Mural Fest will be displayed at First Friday before being donated to Theodore Roosevelt School. The Dept of Public Art sponsored master artists and recruited volunteer artists to complete the murals in one day. The theme of the murals is "Kindness" as requested by the School.

The 5th Annual Mural Fest was held on August 24th at Cheri Lindsey Park on Binghamton's Northside. Over 50 volunteer artists assisted 6 master mural artists finish the murals in one afternoon. Over 300 children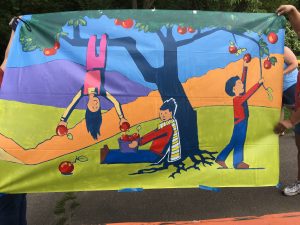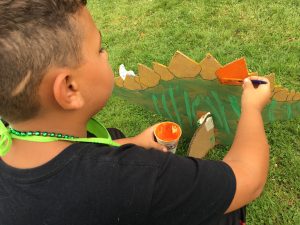 participated in painting a Box City at Mural Fest. The Dept of Public Art created more than 50 upcycled cardboard structures including houses, animals and a Carousel that children painted. "Children loved painting and took it very seriously. One child couldn't believe that he was allowed to paint a house," commented Peg Johnston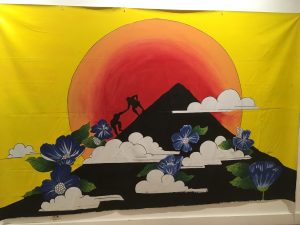 of DPA.
DPA, through its fiscal sponsor, The Center for Gender, Art, and Culture, has received funding from the Community Foundation of SCNY, the Broome United Way, Broome County Hotel/Motel, and a decentralization grant from NYS Council on the Arts through Chenango Co. Arts Council. (This project is made possible with public funds from the Chenango Arts Council's Decentralization Program,
 a re-grant program of the NYS Council on the Arts, with support from Governor Cuomo and the NYS Legislature.)
The DPA sponsored a Mural Fest at Cheri Lindsey Park in 2017 when the bath house mural was painted. In 2018-2019, Mural Fest moved to Floral Ave. Park in Johnson City where six murals were painted on park buildings. The Dept of Public Art was founded in 2012 and is a volunteer group that supports and crea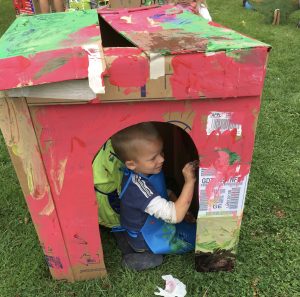 tes art in the public realm.