Sculpture and Prints on Display in "Not Alone" at Cooperative Gallery 213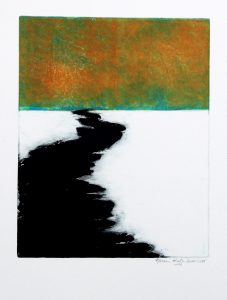 In September, Cooperative Gallery 213 presents ceramic sculptures and prints by Karen Kuff-Demicco in an exhibit entitled "Not Alone". The show opens with an Artist Reception on Thursday, September 6 (6-8 p.m.), followed the next day by First Friday (3- 9 p.m.), and closes on Saturday, September 29 at 4.p.m. Regular hours are Fridays 3 to 6 p.m. and Saturdays 12 to 4 p.m. or by appointment with the artist.
Kuff-Demicco's work is primarily figurative with narrative connections.  "I am basically alone when I produce my work, either physically alone in my studio or mentally alone in my thoughts.   I start a conversation with each piece as I work, creating a separate world. Some pieces examine the nature of relationships while others explore thoughts I cannot articulate. Through this process, I find I can communicate or make a connection and I am no longer alone," comments the artist.  Karen invites you to "come and meet the personalities, thoughts, and relationships that have kept me company during the past year."
Formerly a teacher at Roberson Clayworks in Binghamton, NY, Karen has a BFA in Sculpture from Binghamton University, as well as degrees in Geology and Urban Planning from other institutions. She has spent many summer days at Alfred University Summer school and attended many workshops around the country.   She was a resident artist at Anderson Ranch Art Center and Watershed Center for the Arts.
Also on display in September will be an exhibit of the Mural Mapping images from LUMA that will be projected on the Atomic Tom's building at 96 State St. during the Projection Arts Festival Sept 7-9th. Thirty images will be selected for projection and will be on display and for sale at the Cooperative Gallery throughout the month. The gallery will have extended hours on Saturday, September 9, (12 – 9p.m.) to coincide with LUMA. The Cooperative Gallery 213 is located at 213 State Street, Binghamton, NY.