Sprouts Teacher Training
June 5, 2019 @ 4:00 pm

-

5:30 pm
– Integrating the outdoors to the classroom and curriculum
Are you interested in a school garden? Do you want to know how to connect your curriculum to the outdoors? Want advice on where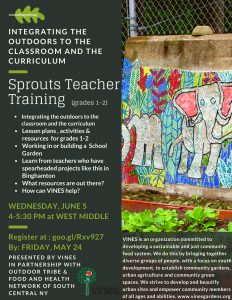 to start? This training is for you!
While the lesson plans at this training are for grades 1-2, any teaching interested in a school garden or connecting their curriculum to the outdoors would benefit from attending. We will walk you through additional resources with lesson plans for multiple grade levels that do a great job at connecting the classroom to the outdoors.
It is FREE to attend but you must register at: goo.gl/Rxv927 by: FRIDAY, MAY 24
The training will be held at West Middle on Wednesday June 5 from 4-5:30pm
VINES is offering a great (free) professional development opportunity coming up! VINES' Sprouts Teacher Training is specifically for teachers to connect their curriculum to garden-based learning to really help teachers get a better idea of what it takes to work in a community garden and building a school garden. At the training we will discuss school and community gardens, distributing and teaching a lesson for teachers in grades 1-2 and providing insight on funding opportunities. VINES will be allowing schools to sign up for community garden plots as a trial basis, allowing teachers to have a pilot phase of connecting the curriculum to the outdoors.