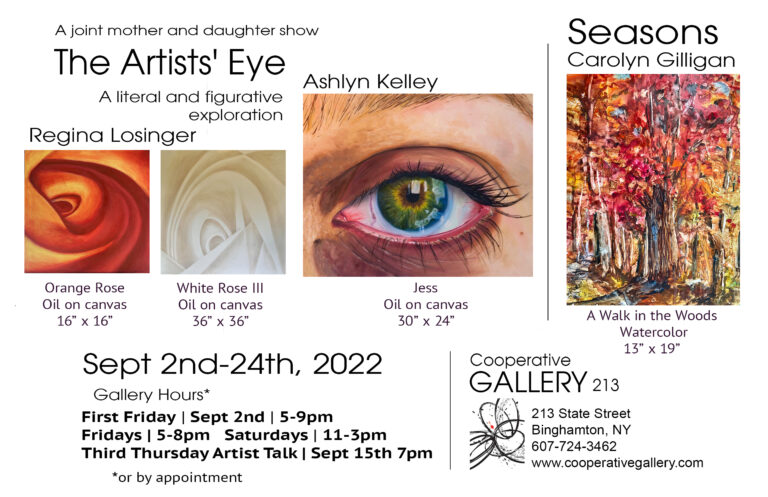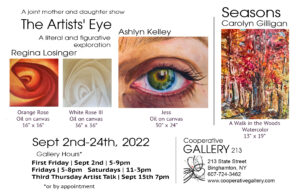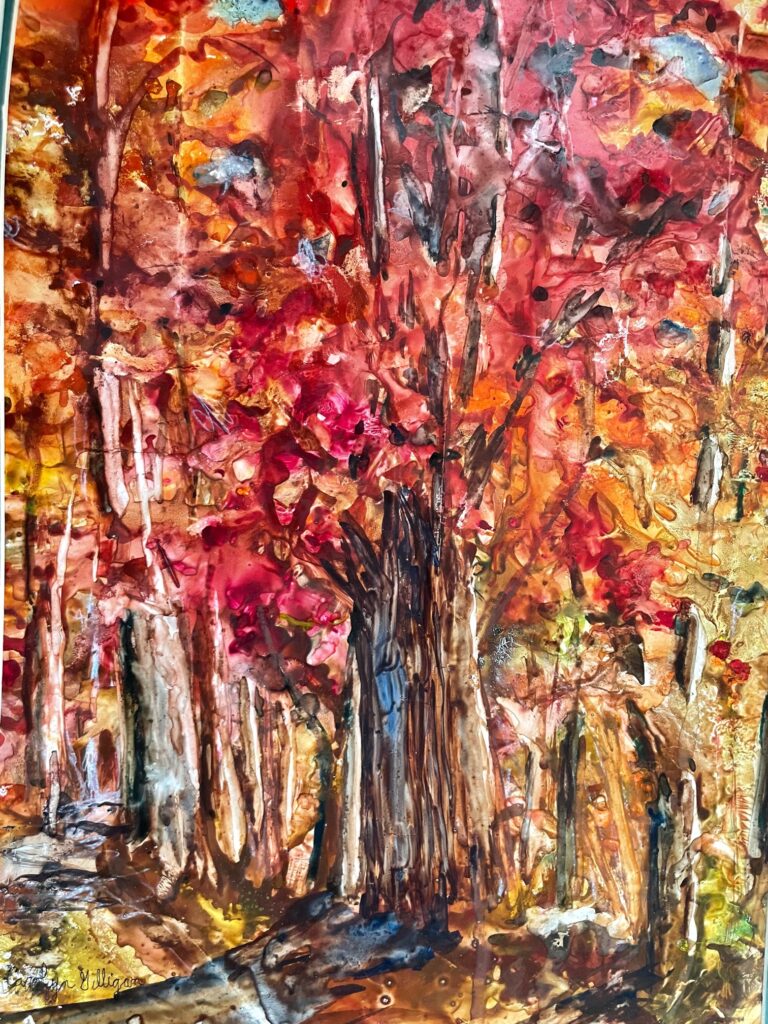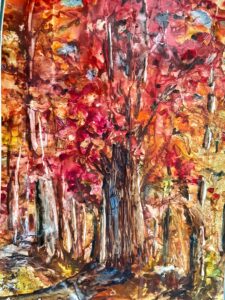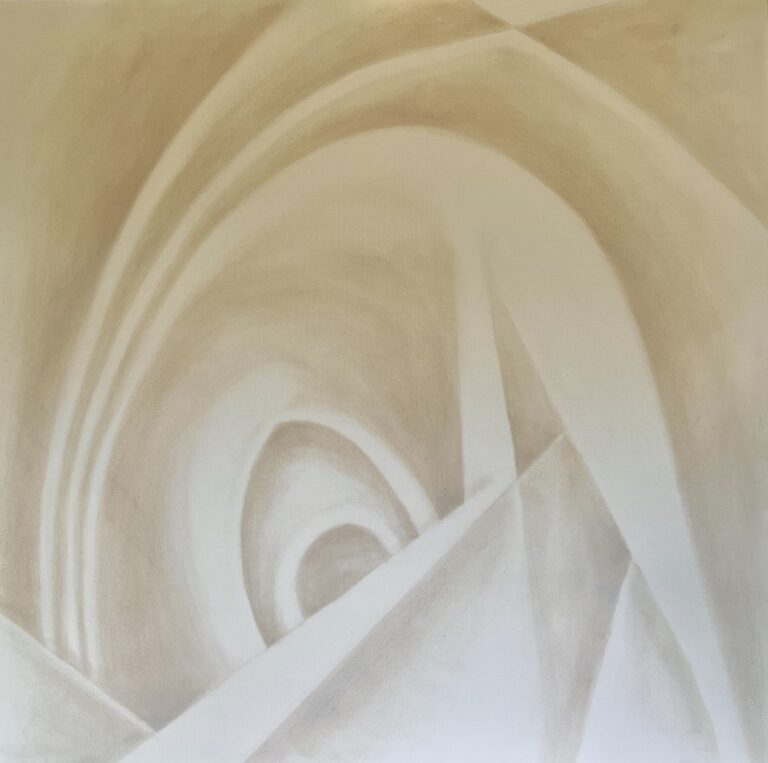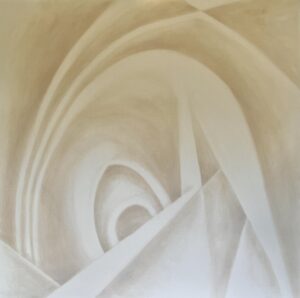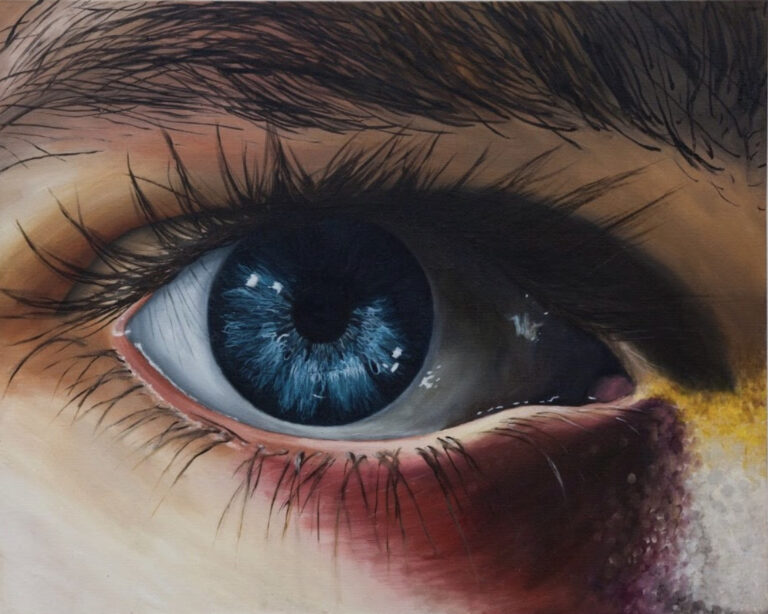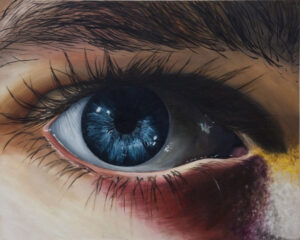 The Cooperative Gallery 213 features two shows in September, The Artists' Eye: a literal and figurative exploration by Regina Losinger and her daughter Ashlyn Kelley as well as a watercolor and collage show titled "Seasons" by Carolyn Gilligan. The shows run from First Friday September 2, 2022 through September 24th. The gallery is also exhibiting the images from the mural mapping aspect of LUMA, this year projected on the building at 84 Court St. Binghamton at LUMA Projection Festival September 9 and 10. 
The Artists' Eye – a Literal and Figurative Exploration – is a joint show featuring the works of oil painters Regina Losinger and daughter Ashlyn Kelley. Regina's paintings – rendered in oil on canvas – focus on the 'figurative'.  They are a visual exploration of the beauty and curves of the centers of roses. 
As I explored, Regina observed, "I realized that roses became more abstract as I got closer to the center.  And I wondered if angular and linear lines might be found in the soft swirling curves of the rose centers." Regina's works are painted in modernist and cubist styles. Several are painted in shades of white, and are peaceful, calming, and meditative. The rest are painted in color – each using a different but full third of the color wheel. "It is possible to get lost in their quiet swirling curves," she said. Regina's works were inspired by her love of flowers, gardening, and yoga, and are a departure from her usual realistic painting style. 
Ashlyn Kelley's paintings of eyes – studies of the variety of eye shapes and colors – are rendered in oil on 30" x 24" canvas – and are the 'literal' part of the shared show. "As an artist, I have always been interested in eyes. They are not only foundational to each person's perception of the world, but they tell a lot about us as individuals," Kelley notes. She continues, "By looking into someone's eyes, you get a sense of their energy, intentions, emotions, and even their health. It can be intimidating, intimate, and powerful." Kelley was inspired to create these pieces while exploring a possible career in facial and ocular prosthetics several years ago. 
Carolyn Gilligan is known as a watercolor artist who works with a paper called Yupo. She also works in collage with vibrant colors. 
The Cooperative Gallery on 213 State St. In Binghamton NY has been featuring local artists since 2000 and is open First Friday 5-9 pm and regular Fridays from 5-8 pm and Saturdays 11 am- 3 pm and by appointment with the artists. The artists will offer Art Talks on Third Thursday at 7 pm in person and via Zoom. More information at www.cooperativegallery.com and on social media.