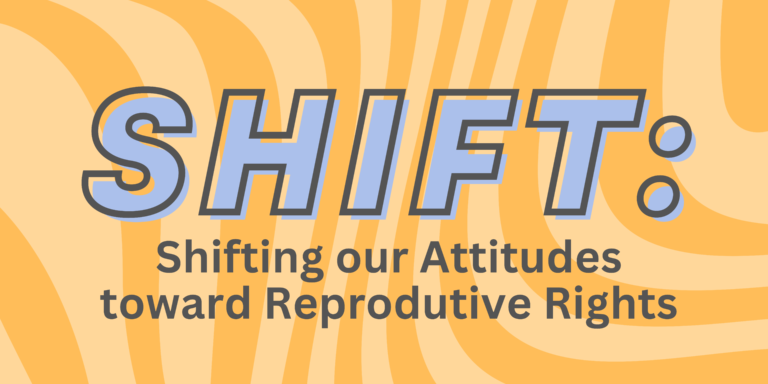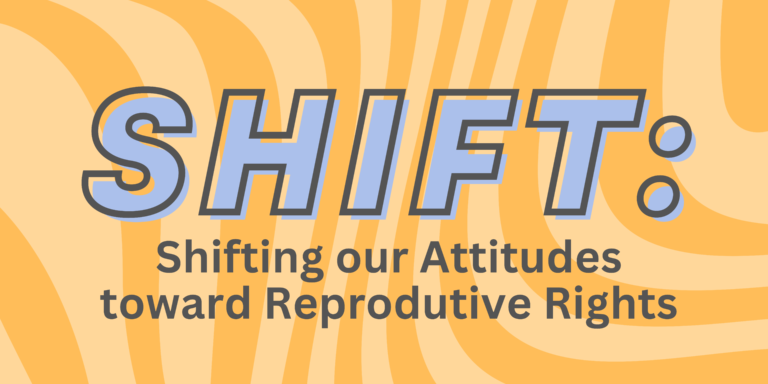 In the rapidly changing landscape of reproductive rights we find that we have to shift attitudes, strategies, and how we express our commitment to bodily autonomy for all.
SHIFT our Conversations about abortion, birth control, sexuality, race and gender.
SHIFT our willingness and ability to talk about controversial topics.
SHIFT the stigma around people's life choices.
SHIFT the culture in our area by educating ourselves, becoming aware of threats –and –opportunities to SHIFT people's attitudes and prejudices.
SHIFT is a new initiative from the Center for Gender, Art, and Culture and will offer cultural opportunities such as a virtual book club, movie screenings and discussion, art projects, and factual workshops such as "How to Talk About Abortion."
ARRRGGHHH! The Google form didn't collect emails!!! If you registered and particularly if you haven't joined SHIFT yet, please fill out this new form and we will start filling you in on plans. Join us by filling it out to receive news and information about SHIFT. Open to anyone in the South Central NY region (Broome, Tioga, Chenango, Otsego and Delaware. or near Binghamton) Virtual events where possible. This initiative is funded in part by the Community Foundation of South Central New York.
Link to interest form is here: https://forms.gle/Br4tFhq5Z4ewEgek9
Our goal is to encourage conversation about abortion and other difficult topics in reproductive healthcare.
UPCOMING EVENT: Focus on Abortion: This is a powerful exhibit of stories of people experiencing abortion with portraits of each of the storytellers who represent many walks of life. Each has a unique story and each the message that we can trust peoplee to know what's best for them. There will be zoom Art Talk on April 20th, 7 pm with Roslyn Banish, the creator of this show and Peg Johnston sponsor of the show and gallery member  The show is open to the public Fridays 5-8 pm and Saturdays 11 am- 3 pm and opens First Friday at Cooperative Gallery 213 State St. Binghamton.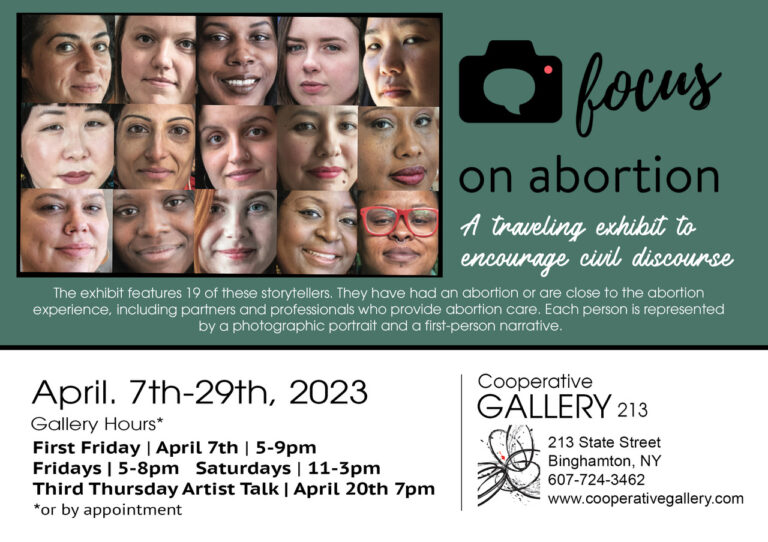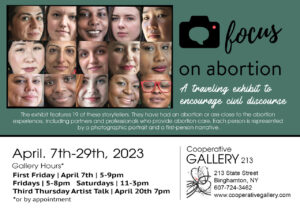 UPCOMING EVENTS:  Third Thursday Art Talk April 20th 7 pm in person at Cooperative Gallery 213 State St, AND on zoom.  ALSO Save the date– a poetry Reading by Abby Minor  (new book: "As I Said A Dissent" Sunday April 23 11 am with free brunch.
Some suggested reading/resources:
https://www.abortionconversationprojects.org/conversations–several how to guides and thoughts bout having productive conversations that will SHIFT attitudes.
Neville's Guide to Tough Conversations– Neville Longbottom is one of the heroes in the popular Harry Potter books and movies. His character is a spokesperson for social justice in the Harry Potter Alliance (now Fandom Forward) and this guide has an excellent analysis on how social change happens and helpful advice about having challenging conversations.
Download Neville Challenging Conversations
Calling Out/ Calling In Ted Talk by Loretta Ross–Loretta Ross is one of the architects of the reproductive justice movement using a human rights framework. A good 13 minutes worth of your time.
Shift Stigma This is the non profit cultural organization associated with the Whole Woman's Health clinics and a pioneer in anti-stigma activism. See clinic tour.
Feminist Buzz Kill Live--Lizz Winstead, who created the Daily Show with Jon Stewart, has started an organization devoted to abortion rights and taking down the more absurd new and politics swirling around the abortion issue. It's funny, cheeky, sarcastic, and up to the minute analysis.  Episodes drop every Friday at 6 pm.
The Community Foundation of SCNY is funding SHIFT and we are looking for feedback on our cultural efforts to make abortion visible and help people feel more comfortable talking about abortion.  If you have  a  minute or too we would appreciate your feedback. Follow this link or QR code (hold your smart phone camera to the image and it will take you there. or follow the link.
THANKS!!