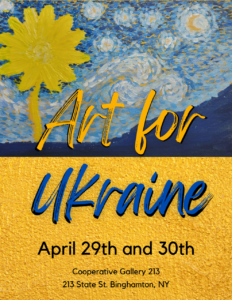 Art can tell stories, ignite imagination, and stir emotions. As a gallery and as a community our hearts go out to the Ukrainian people whose country is being subjected to an unprovoked attack by Putin's Russian military. The Cooperative Gallery 213 is organizing "Art for Ukraine" a weekend of art that will raise funds and awareness Friday April 29th  from 5- 8 pm and Saturday April 30th from 11- 6 pm. Admission is free and donations and sales welcome.
This exciting exhibit will feature artwork by invited Ukrainian artists along with work by the Gallery's Exhibiting and Supporting Members. Funds raised from the sale of art will be donated to local charities, including the Together for Ukraine Foundation and St. John's Ukrainian Refugee and Humanitarian Assistance Fund. According to gallery president, Karen Kuff-Demicco, "We are pleased to unite with the area's Ukrainian-American community and local artists to raise support for direct humanitarian assistance for those displaced by the war."
Call for Artists: Work should be brought to the gallery on Sunday, April 24 from 2-5 or Monday, April 25 from 4:30-6:30. Artwork should generally fit into the theme of the show— "Art for Ukraine". There is a limit of 2 pieces each for the gallery's Supporting and Exhibiting members. Work may be offered as either a 50 or 100% donation. The registration form, Art for Ukraine is here and more information is posted on the gallery website, www.cooperativegallery.com. For questions either call the gallery, 607 724-3462 or email cooperativegallery213@gmail.com.