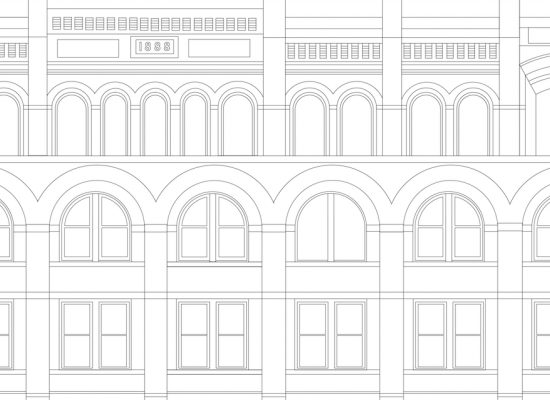 At this year's LUMA Festival, September 7-9, 2018, local artists will have the opportunity to see their images projected on a downtown building. LUMA will project 30 images generated by artists using a template or outline of a building. "We want LUMA to be a celebration of the Arts in Binghamton and a chance to showcase artists, including those that work in more traditional media like painting and drawing," said Joshua Bernard, co-founder of LUMA Festival. The process is called "Mural Mapping" or a "Still Projection."
Interested artists will receive a template of the building at 196 State St. (Atomic Tom's) Binghamton on canvas, paper, or in a digital format. They can paint, draw, color, or collage on the template. "Images should tell a story using the building," according to Peg Johnston of the Dept. of Public Art and the Cooperative Gallery, co-sponsors of this project. Using registration marks on the template, the LUMA team will be able to exactly size each image to appear on the building. Each submission must be accompanied by an entry fee of $15 to cover material costs, as well as name, address, email, phone, image title, and price. Thirty images will be selected for projection and for an exhibit at the Cooperative Gallery 213 opening on First Friday in September. Original images may be offered for sale with the usual 20% gallery commission. LUMA will have the digital rights to images for the 2018 Festival and for promotional purposes; the artist retains all rights to original works, reproductions, and digital images after LUMA.
Templates will be available July 26th and the deadline for receipt of final art work will be August 24-25h. To reserve a canvas template, email deptofpublicart@gmail.com.
Entries will be accepted at the Cooperative Gallery 213 State St. on Sat. August 11th from 12-4 and Friday, August 24 3-6 pm and Sat August 25th at 12-4 pm and payment (cash, check or credit) will be accepted at that time. For digital copy or further information contact DeptofPublicArt@gmail.com.