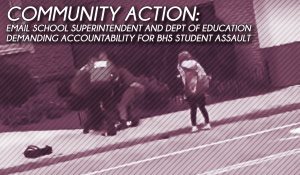 PLOT (Progressive Leaders of Tomorrow) Organizers are asking for action protesting the assault of a black high school student by security staff. They are asking for letters or emails to be sent to Superintendent Thompson ThompsonTATbinghamtonschools.org.
The Letter outlines corrective steps to achieve a supportive environment for students of color:
I'm sure you are aware of a video circulating of a black Binghamton High School student being violently assaulted—off school grounds—by several white "Z-Team" security staff, on September 11th of this year.
I am shocked that there has been little to no action on behalf of your administration to respond to this incident. In fact, it is my understanding that only the STUDENT VICTIM has been punished for this assault.
Because of this, I implore you to take the following steps to address this situation and respond to the community outrage stemming from this incident:
1) Immediately terminate and/or re-assign all security staff members who followed and assaulted the student.
2) Dismiss any academic charges filed against the student. This includes removing the suspension from the student's record.
3) Review all policies for use of physical force by Z-Team members, especially when a student has left school grounds and poses no threat to students.
4) Review all remaining Z-Team members to ensure their trainings and priorities emphasize de-escalation and non-physical intervention when dealing with students. This assessment should ultimately occur for ALL faculty and staff, in addition to addressing the general lack cultural competence and the various ways current systems throughout the Binghamton School District disproportionately impact students of color.
5) Implement legitimate "Restorative Practices" throughout the school district, far beyond the existing effort—which remains superficial and woefully inadequate.
6) In keeping with the ideology of Restorative Practices, publicly apologize to the student and their family for wrongly suspending the student for 23+ days, and for the trauma endured at the hands of Z-Team staff, and the ensuing investigation into the incident which caused further harm to the student.