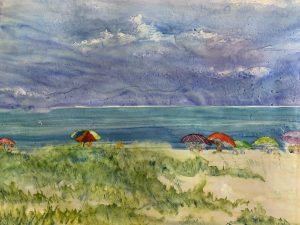 After a hiatus due to the Corona virus, the Cooperative Gallery is pleased to announce an opening with two of our gallery artists, Carolyn Gilligan and Ken Weir, as well as several paintings of the late Glenda Blake August 7-29, 2020. The gallery is opening with precautions in place following the guidelines of New York State and the Broome Co Arts Council; these include mandatory use of facial coverings, abundant disinfectant, and the absence of food to reduce the risks of the virus. There will also be physical markings to remind everyone to keep appropriate distancing. First Friday hours will be from 4- 7 pm and the gallery will regularly be open Saturdays from 11 am to 3 pm. Showings are also available by appointment with the artists or by emailing cooperativegallery213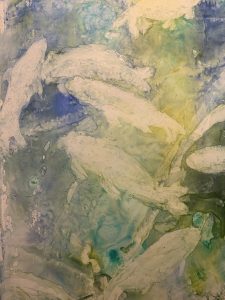 @gmail.com.
Gilligan returns to her fascination with the many facets of water in a show titled simply, "Water." She explains, "I use water color to create new images of water by watching and managing the flow of colors. My experience with moving color to create the beauty of water in motion is always evolving."   Gilligan also has plans for a video to illustrate her processes in working with moving color; the instructional video will be available at www.cooperativegallery.com and gallery social media. Call or text Carolyn at 607-761-1355 to make an appointment to see her work.
"Unusual Patterns" is the title of Ken Weir's exhibit of paintings.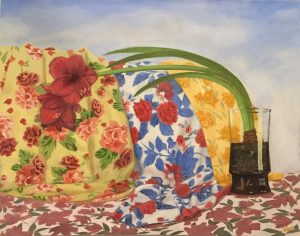 He explains, "In previous shows I've used figures to engage the viewer by depicting parables, stories and unlikely situations. In this show I've continued the theme of unusual associations, but with patterns, not people. Each still life features a collection of patterns that wouldn't normally be juxtaposed. Unexpected collections of beautiful patterns creates a new dynamic and excitement. The same is true of people. Here the painting frame is like a room that brings unrelated people together, despite Covid!" For a private showing call or text Ken at 607-239-1022. A virtual tour of his show will be posted on the gallery website (cooperativegallery.com).
The Cooperative Gallery at 213 State St. Binghamton is celebrating its 20th anniversary this year and is a popular stop on the First Friday Art Walk and is a focal point for visual artists in the community. Supporting memberships are available for $35 and the gallery sponsors regular Live Painting, all member show in December and occasional workshops. Sign up for their mailing list on the website or on the Facebook page Cooperative Gallery 213. The gallery's NYS plan for re-opening can be accessed www.cooperativegallery.com.