Indivisible Project and Fair Elections are holding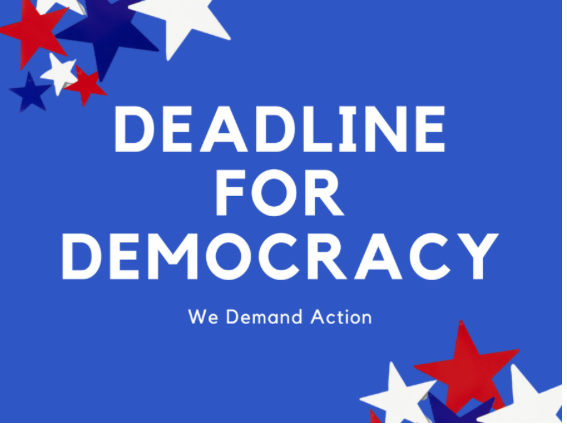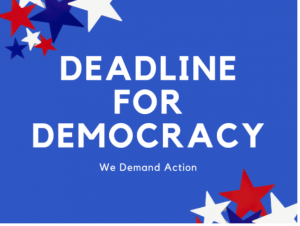 "Deadline for Democracy" Rallies at Every One of Senate Majority Leader Schumer's Regional Offices, including here in Binghamton, Urging Schumer to Get the For the People Act PassedWHERE: Federal Building
TIME:      12:00 NOON
DATE:     Monday June 28, 2021
               15 Henry Street, Binghamton NY 13901  
BRING SIGNS!!!!
(Examples: Save Our Democracy, Pass For The People Act, We Demand Action, Free and Fair Elections, Get Dark $ out of politics, We The People should elect our Representatives, Kill The Filibuster, etc.)
Organized by: Indivisible Binghamton
With 50 Democrats voting in support of moving the For The People Act forward, attention is focused on whether Senate Majority Leader Schumer can get this vital legislation passed. New Yorkers around the state, including here is Binghamton, are holding rallies to call upon Senate Majority Leader Schumer to use every tool at his disposal to pass democracy reform. Locally, the rally is being organized by Indivisible Binghamton, a local grassroots organization.
https://deadlinefordemocracy.org/find-event?source=indivisible_email_20210622_postfil_nd
The For the People Act, if passed intact, would substantially strengthen our democracy by protecting the freedom to vote, particularly for Black and brown people who are, and always have been, the primary targets of deliberate barriers to vote. The legislation would also limit the influence of corporations and wealthy donors in electoral politics and amplify the voices of everyday people through a public financing system and an independent, bi-partisan redistricting process.
This event is part of a national campaign called Deadline for Democracy by the Indivisible Project and 70 coalition partners. Indivisible and Fair Elections have teamed up to hold similar rallies at Sen. Schumer's 8 regional offices across the state.
DEMOCRACY IS NOT A SPECTATOR SPORT
GET INVOLVED!