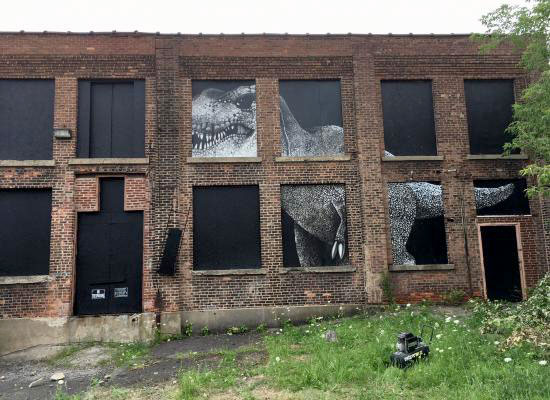 Members of the Dept. of Public Art installed a mural on the factory at 19 Avenue B in Johnson City. Master Muralist Bruce Greig created a mural in panels that gives the illusion that a dinosaur is inside the factory looking out. "It's a playful mural that brings new life to this factory," according to Peg Johnston of the DPA.
Johnson City has recently announced the first phase of a renovation to save the building. "This mural brings attention to the possibilities for this building and the development possibilities for Johnson City," said Johnston.
For more photos see our facebook page at Dept of Public Art and listen to story on Radio Bundy 99.5 FM. The Dept of Public Art has created many murals in the Floral Ave. Park to the delight of the children and families who use the Park.
For more information see www.deptofpublicart.com, on Facebook or contact us at deptofpublicart@gmail.com.