Women and Local Activists Call to End to the Abuse of Women in the County Jail
Women are one of the fastest growing populations in jails and prisons around the country. Broome County mirrors those trends:  locally the incarceration of women has been accelerating. The growing number of women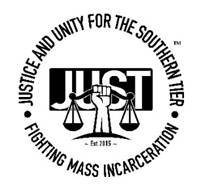 behind bars in Broome County is a key reason why Broome County continues to have the highest incarceration rate in New York State. The reports from women inside the jail are particularly chilling.  On January 20th at 4pm in front of the Broome County building local women and activists will be reading their accounts on their behalf, including numerous case detailing:
Racial denial of care for pregnant women
Denial of basic prescribed medicines
Repeated voyeurism by guards
Denial of access to family
Insufficient and spoiled food, especially for pregnant women
Shortage of hygiene products
Callous denial of basic covid PPE, distancing, vaccination
These actions by Broome County officials and employees are illegal and an affront to the Eighth Amendment to the Constitution which prohibits officials from being deliberately indifferent to the serious medical needs of prisoners and detainees.  Women's attempts to file grievances are regularly denied; protests by JUST, family and friends  are regularly ignored.