THE 4TH ANNUAL BINGHAMTON PORCHFEST TO BRING
HUNDREDS OF PERFORMERS, THOUSANDS OF ATTENDEES
TO HISTORIC ABEL BENNETT NEIGHBORHOOD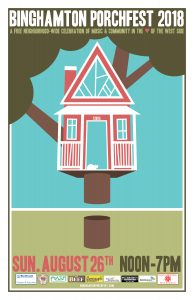 Binghamton, NY- On Sunday, August 26th, Binghamton's West Side will come alive with the sounds of music as the community gathers for the fourth annual Binghamton Porchfest celebration. 132 musical acts will perform on 42 residential and business front porches in the vicinity of the historic Abel Bennett Tract neighborhood.
The grassroots style event borrows heavily from the format of similar festivals throughout the country; Ithaca, NY launched the first Porchfest in 2007, and the idea has since spread to over 120 cities across the nation. Last year, Binghamton Porchfest drew an estimated 5000 attendees to the neighborhood.
A press conference and short musical performance will take place at 11am on Monday, August 20, on the front porch of 90 Riverside Drive in Binghamton. Speakers will include festival organizers, city representatives, and event hosts/sponsors. All local media outlets are encouraged to attend.
Performers for the fourth annual Binghamton Porchfest include Alpha Brass Band, Bug Tussle, Ceol do Bheoir, Chenango Brass, Crosspoint Praise, Deveroe, Dirt Farm, Honker, Hot Dogs & Gin, John Truth Experience, Kidbess & the Magic Ring, The Kitchen Sink Band, Kites & Powerlines, Krooked Knuckles, Lunar Pacific, Milkweed Electric, Molina, Mosaic Foundation, The Nate Gross Band, Next to Kin, Nukporfe African Drum & Dance, The O'Neill Brothers, Peaches & Crime, Project DCX, Raibred, Root Shock, Rosetree, Salsa Libre, Scott Freeman Band, Ship of Phools, Tenzin Chopak, Tijuana Danger Dogs, Uncleshake, Unity Group, Vestal Center Dulcimers, Wave Magnetik, Wreckless Marci, and many more.
Performances are staggered throughout the day, from noon to 7pm. Attendees are encouraged to bring lawn chairs, picnic baskets, and bicycles for this free event. Restrooms are available for the public at participating businesses. Portable toilets and food vendors will be staggered along the festival route. This is a family-friendly, all-ages event.
Binghamton Porchfest is presented by Scott Freeman & Associates from Merrill Lynch and The Gorgeous Washington Street Association. Sponsored by The Beef, The City of Binghamton and Economic Development, Cavanaugh's Grocery, Guitar Center, Greater Binghamton Obstetrics & Gynecology, Peterson's Tavern, and Townsquare Media. Additional support provided by Abel's Pub, Leroy Package Store, The Belmar Pub, Callahan's Sportsmans Club, The Bundy Museum of History & Art, and Lost Dog Cafe Binghamton.
Additional information can be found at binghamtonporchfest.com. All inquiries, please contact Festival Director Chris Bodnarczuk at (845) 649-2912.