"Now form a band" A punk exhibition in 3 chords (Binghamton University Art Museum)
October 22, 2021 @ 7:30 pm

-

January 21, 2022 @ 8:30 pm

Free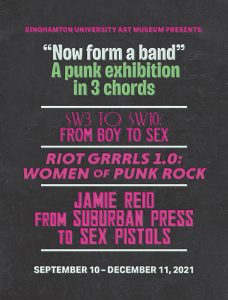 While staying with his cousin John, who founded the seminal punk stores Acme Attractions and BOY in London in 1977, Andrew Krivine began building his vast collection of punk and post-punk graphic design. This exhibition centers on this collection, through three different foci: prints by Jamie Reid from Suburban Press and their connections with The Situationist International (which will be curated by Tom), women in the punk movement, and fashion of the British punk scene, also featuring photographs by Sheila Rock.
September 10 – December 11, 2021
Location: Main Gallery, Binghamton University Art Museum
Additional Events:
Film screenings with Harpur Cinema
October 22* & 24, 7:30 pm
Vaginal Davis, The White to be Angry (19 min., 1999)
Alex Cox, Repo Man (1 hr, 32 min., 1984)
*followed by conversation with Professor Brian Wall (Cinema) and Claire Kovacs (Curator, Binghamton University Art Museum)
Location Lecture Hall 6
October 29 & 31, 7:30 pm
Leslie Thornton, Peggy and Fred in Hell: The Prologue (19 min., 1988)
Betzy Bromberg, Petit Mal (18 min., 1977)
Abigail Child, Mayhem (20 min., 1987)
Sadie Benning, It Wasn't Love (20 min., 1992)
Location Lecture Hall 6
---
Amy Rigby performance, book reading & signing, and conversation with Jennifer Lynn Stoever (Department of English)
October 28, 6 pm
Location: Main Gallery, Binghamton University Art Museum
Amy Rigby has made a life out of writing and singing about life. She will be reading from her book (and later podcast) Girl to City: a Memoir (2019).
---
Bing Punk Rock Reunion
November 4, 5:30 pm
Location: Main Gallery, Binghamton University Art Museum
This gathering will amplify the stories, experiences, style, and sound of the folks who helped create punk in the Southern Tier, in their own words—and encouraging all visitors to directly engage with the history of punk by sharing flyers, photographs, and recordings and talking about them. We will gather this "D.I.Y. Archive" in the form of an ongoing online archive hosted by the Binghamton University Art Museum.
Our roundtable, an intergenerational conversation with guests spanning the 1980s to the present, will consider what is specifically unique about Bing punk and its various eras? By holding a reunion to discuss Bing's punk rock past, we hope to show how punk offers us new critical perspectives, coping mechanisms for disruption, and modes of collective living in this historical moment.