"Other times, Other Places" Opens at Cooperative Gallery 213
February 5, 2019 @ 8:00 am

-

5:00 pm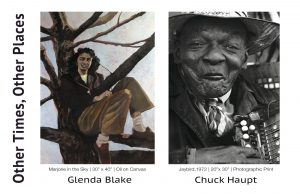 "The artist's role is to raise the consciousness of the people. To make them understand life, the world and themselves more completely…" -Amiri Baraka
On Thursday, Febuary 28, and First Friday, March 1, 2019, Cooperative Gallery 213 will open "Other times, Other Places," a dual exhibit by Glenda Blake and Chuck Haupt. The exhibit, running through March 23, includes photos by Chuck Haupt from throughout his career, and paintings / works on paper by Glenda Blake.
An opening reception at the gallery, public welcome, is planned for Thursday, Feb. 28, 6-9:00 p.m.
Blake says: "A recent death in the family and subsequent life-threatening illness of my own have prompted a look back at not only my earlier life and artwork, but a whole new perspective on old family photographs. The old photo albums, kept and sometimes arranged by my late mother, were falling apart, and I made it a project to scan all of the photos and reassemble the originals in archival conditions. Some were eerily intriguing, and I've begun painting from those to reflect my own memories and viewpoints of not only the people, but the times involved.They are not meant to represent the people involved in a literal way, but my own perceptions.
-Blake is an award-winning and juried artist who has shown her work throughout the Northeast and the Mid-Atlantic region. She also shows her work at the Circle Gallery in Annapolis, MD and the Cooperstown Art Association, Cooperstown, NY.
Haupt says: "I was bit by the photography bug in my early teens and was able to make a career out of it as a photojournalist. 'Other Times, Other Places' is a look back at my photography — from my Polaroid Swinger days, when family and schoolmates were my target, to an early trip to Europe and, more recently, to my deployments with the American Red Cross.
"I chose to display all the images in black and white. I like being able to strip away the colors, which I feel enables the viewer to more easily get to the heart of the image, to not be distracted by the colors we see in everyday life.
"In all my years behind a camera, one thing hasn't changed: I love photographing people and capturing their personalities."
-Haupt is a retired photojournalist and has been an exhibiting member of the Cooperative Gallery 213 since 2015
-Blake is a retired publications director and designer who joined the Cooperative Gallery 213 in 2015 as well, as an exhibiting member.