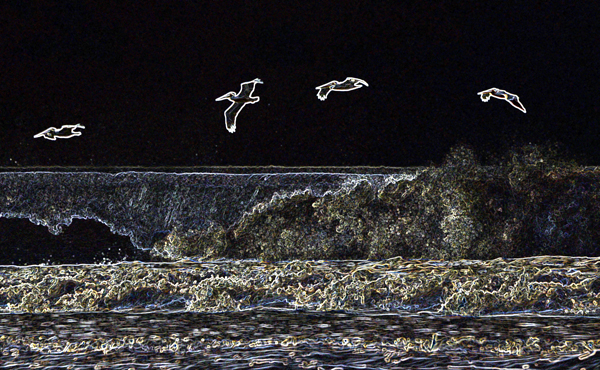 The Cooperative Gallery 213 presents the work of two popular regional photographers, Geof Gould and Bill Gorman. Gould's exhibit titled Favorites and Gorman's exhibit titled Just Passing Through will share the gallery space. Their work will be introduced at an opening reception on Thursday, October 4th from 5:30 – 8 PM, open to the public, followed by a First Friday reception on October 5th from 3-9 PM. The dual exhibit will run through October 27th, 2018. Gallery hours are Fridays: 3-6 PM and Saturdays: 12-4 PM.
"The title Just Passing Through is a gentle reminder of what we are all doing," said Gorman. "Some of the photographs are ones I've taken while passing through, others are abstract photographic constructs that try to illustrate the concept of passing through, and some are literal images that document people or objects passing through space. The idea for the exhibit might have come from the fact that I just passed through my 82nd birthday not too long ago."
"The title Favorites was born out of indecision, thanks to an exceedingly full set of computer files," said Gould. "But as I reviewed both older and very recent photos, my enthusiasm was refreshed. I am pleased to say that the photos to be shared, taken over many years and reflecting several subjects, are among my favorites. It's always a pleasure to share space with Bill Gorman at Cooperative Gallery 213, a fine arts center we've each belonged to for many years."
The Cooperative Gallery, a popular stop on the First Friday Art Walk, located on Artists Row at 213 State Street in Binghamton, is open on First Friday 3- 9 pm and regularly Fridays from 3-6 and Saturdays from 12- 4 pm. A free weekly e-newsletter is available by signing up at  www.cooperativegallery.com or on Facebook at Cooperative Gallery 213.