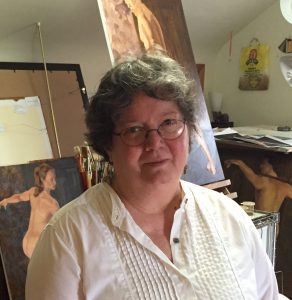 On the occasion of the 70th anniversary of her birth, the Cooperative Gallery 213 will present a retrospective showing of the late Glenda Blake's work. The opening is on First Friday, August 6, 2021, from 5 – 9 pm and throughout August Fridays 5-8 pm and Saturdays 11 am – 3 pm, and by appointment.
Glenda was a talented artist from an early age. While still in high school she won an award from the Roberson Museum for her work. After studying studio art at SUNY Oswego she returned to Binghamton where she worked as a graphic designer for several stores, publishers, Cornell Extension, and as Director of Publications at SUNY Broome. After  she and Leo met she was soon being able to realize her dream of being a full-time artist.
Glenda worked in a number of media, predominately oil for her larger works and colored pencil for others. Her technique was to apply the skills she developed as a graphic designer to compose works digitally, then paint from the altered photos. While she created beautiful still life and landscapes, her favorite subject was the human form, especially in motion. Many of her best works captured her passion for Morris dancing.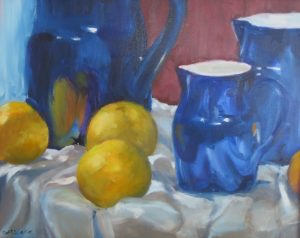 On Saturday, August 7, 2021, from 6 to 9 PM, her widower, Leo Cotnoir, will host a memorial reception at the Gallery in celebration of her life. In compliance with COVID precautions and fire regulations, that reception will be by ticket only and limited to fully vaccinated adults. Members of the community can request tickets, on a first-come basis, by contacting Leo at ljcotnoir@outlook.com or at 607-282-2763.
The Cooperative Gallery at 213 State St. Binghamton was founded more than 21 years ago and has been one of the few galleries open during the pandemic since August, with precautions. Now that the restrictions are lifting, the gallery members are looking forward to re-connecting with the greater arts community. Information about the gallery is on the website www.cooperativegallery.com, as well as Facebook and Instagram pages. For more information contact cooperativegallery213@gmail.com.