May 4, 2020
by Bill Martin
If you had to design a system to spread COVID-19 in Broome County, how would you do it? Follow the sheriff and county officials in three, easy steps.
Step One: Local officials have sought to isolate the county, terminating all bus service into and out of Binghamton, closing hotels to visitors, and demanding that any newcomers quarantine for fourteen days. This is all reversed when it comes to Sheriff Harder making $ millions for the county by bringing in persons from distant areas and renting out cells at $85 to $250/day. Over the last year over 50 cells on average were rented to federal and state agencies: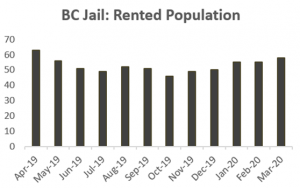 Step Two: You mix this influx with COVID-19 in the jail, as inmates move between pods and everyone shares tight quarters for eating and living. There is no possibility of the county's mandatory social distancing being applied in the jail. There is no ready provision of sanitizer to inmates, and the recently-supplied masks are handed out so infrequently as to be useless according to CDC regulations. Symptomatic persons quarantined in isolated medical cells are moved out and mixed with newcomers with unknown COVID-19 status. Persons working in the kitchen and laundry are reportedly moving across the jail, with some having been transferred into medical isolation.
Step Three: Having created the jail as the "hotspot" with the highest rate of infection in the county–you then spread this into the community with no constraint or followup. Over 150 correctional officers work at the jail, daily moving in and out and going home to their families. Well over another hundred persons work in the Sheriff's complex doing the same (which is likely the reason the County Executive Jason Garnar moved his daily press briefings out of the complex after testing revealed the high rates inside). Since jails hold persons on short sentences, persons are released regularly, with few if any reentry services provided by the county and no provisions for self-isolation. As far as can be determined there is absolutely no testing and no tracing at all.
Is it any wonder that the county never reports on the number being tracked or quarantined after being infected with COVID-19 at the jail, including correctional officers, civilian staff, medical workers, food contractors, and transferred or released persons?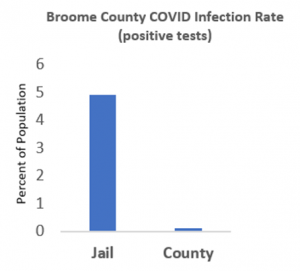 There is a reason other sheriffs, district attorneys, and judges, and even Trump's attorney general, have released short-term, medically compromised, non-violent and other offenders: jails and prisons are petri dishes for COVID-19, incubating and then inexorably spreading the virus into surrounding and distant communities. Broome officials have however other designs, for which we are all paying dearly.