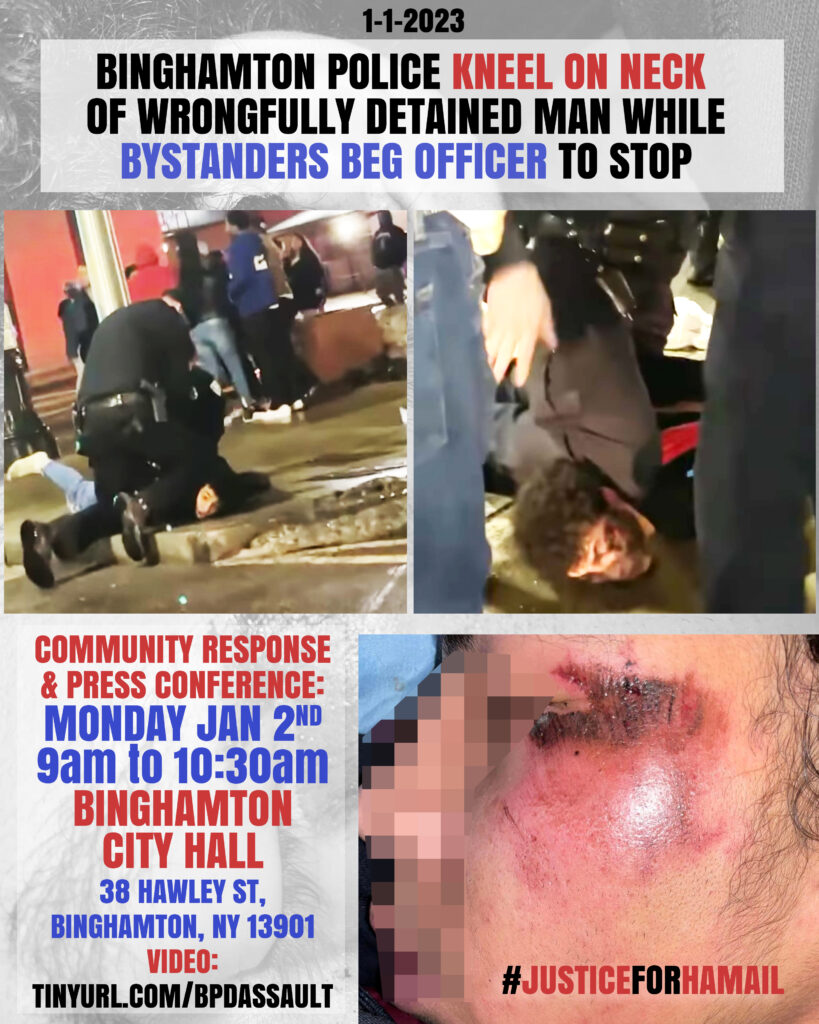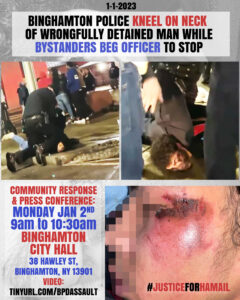 In the early morning of New Years Day white frat boys jumped a man of color in downtown Binghamton. Police stood by and watched—white students fighting downtown is not uncommon. As the fight escalated, friends and bystanders (people of color) intervened in an attempt to stop the man from being injured. That's when police got involved—attacking Hamail (who is Black and Asian), throwing him to the ground and pinning his neck down under the knees of an officer.
TODAY: Monday 1/2/2022
9am to 10:30am (arrive when you can!)
Binghamton City Hall/Police Station
38 Hawley St, Binghamton
Speakout with Press Conference to follow
Hamail wasn't charged or under arrest at the time he was attacked by police. It wasn't until AFTER the incident he was solely charged with resisting arrest (despite not being under arrest for any crime). Police also confiscated hundreds of dollars worth of belongings and cash from Hamail and have refused to release them. Hamail–a young father in the community—has never before been charged with a crime or even been in trouble with the law.Video of the attack can be seen here: tinyurl.com/bpdassault
This incident is eerily reminiscent of the attack and murder of George Floyd in 2020. Concerned community members will be joining family and friends of Hamail at 9am at Binghamton City Hall to file a formal police complaint and notify the public of this latest attack by Binghamton Police.
Details to come. #JusticeForHamail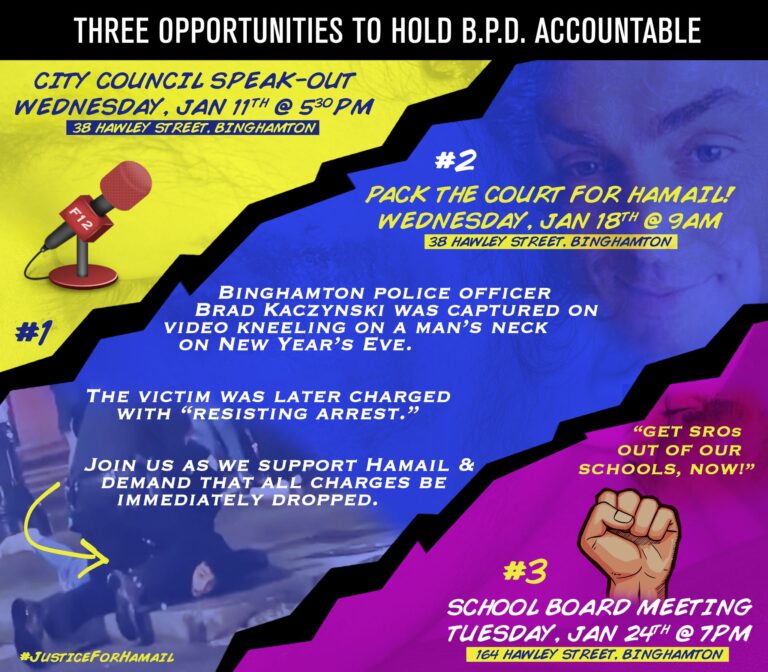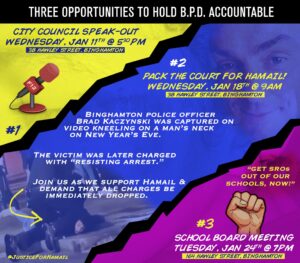 1/20/23 After several community protests, dozens of viral social media posts, and hundreds of phone calls and emails from concerned residents, NY's Attorney General has finally stepped in to investigate the now-infamous "Neck Kneeling" incident that took place in Binghamton on New Year's Eve.
The night of the incident, multiple bystander videos show Waddell, who was facedown in handcuffs on the sidewalk at Hawley and Collier streets, shouting, "I can't breathe!" as bystanders pleaded with BPD Officer Brad Kaczynski to remove his knee from Waddell's neck — a scene that local advocates have described as similar to the events leading to the death of George Floyd in May 2020.
Community organizers are also calling on concerned residents and parents to attend the upcoming Binghamton School Board meeting to demand the removal of SROs from Binghamton Schools, and the permanent barring of Officer Kaczynski from holding any post within the school district again.