Are you a local artist? want to be part of LUMA?   Mural mapping: local artists' work projections
What is a mural mapping? It's a virtual mural that's projected onto a building that is perfectly shaped to the building's structure. We need you to create one. But don't worry: you don't have to know how to work a projector or have any fancy technical skills at all. We'll give you a canvas, drawing paper, or digital template with the outline of the Atomic Tom's building already set up for you to work with. You just work your magic in the medium you're comfortable with.
Local artists are again invited to participate in LUMA's Mural Mapping Project. This year the building that houses CVS will be the palate for images that will illustrate the building with all kinds of imaginative paintings. Last year over 20 pieces of artwork were projected on a building.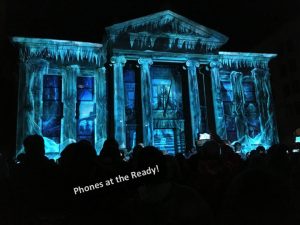 For more information on this year's LUMA watch this video.
Judy Salton is teaching a class on how to use the mapping for best effect on the building. Photos of the original work will be compared to the projected work (also photos) so that everyone can see what worked and what didn't. Canvas or Paper templates will be available to participating artists for a $10 registration fee. Watch bridge events for exact time/date.
The workshops will be at the Cooperative Gallery 213 State St. in Binghamton. The workshop is free and all are welcome.