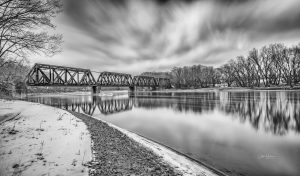 Susquehanna River –
Organic blood stream of this town.
To view these metal spines; suspensions of time,
Old bone relics – stretching across, side to side.
East to West, North and South, these vertebrate of industry, connect to the backbone of commerce, link the past, tunneled deep in our hearts.
From the banks of the Susquehanna –
Leaves change in magnificent earth tones.
Hear the cracking of winter's knuckles, arthritic, iced-joints,
Along the waters edge, as they shift, dislocate, float.
Winter's malnourishment, fattens into Spring, suddenly it's a Summer solstice fling, before slowly, falling back into systemic routine.
Train cars roll down these tracks, on clockworks of ad infinitum,
Junctures flowing in liquid seconds, hours, years, season after season.
Upon these erosive banks of the Susquehanna,
Where eagles soar, spirit dances, in footsteps and chants of soul validation.
Momentarily, time is captured, enraptured,
So futile, this mortal permanence, to its everlasting indenture.
–by Scott Anderson