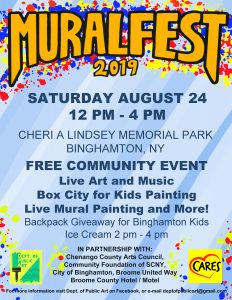 Fifth Annual Mural Fest at Cheri Lindsey Park Saturday
The Dept. of Public Art (DPA) invites children and adults to "Come Paint With Us" at the 5th Annual Mural Fest at Cheri Lindsey Park on Saturday August 24th from 12-4 pm. DPA members have upcycled cardboard into a Box City, dinosaurs, a carousel and animals for children to paint. Adults and teens will be able to help paint mural banners that will be displayed at Theodore Roosevelt School.
This year Mural Fest is partnering with CARES, a group that is offering 250 backpacks filled with school supplies to Binghamton school children. Mayor David and the City of Binghamton are sponsoring the Giveaway as well as free ice cream from 2-4 pm at the event. CARES advocates for school children and provide assistance with learning.
            Mural Fest also features a line-up of live local bands: 12 noon Adam Ate The Apple; 1:20 pm Voodoo Highway 2:50 Bead n Bone (an Ithaca based reggae band).
Volunteer painters and people to help children paint are still welcome to sign up at https://forms.gle/oDpdDE83Z7dznLGF9. Donations are also gratefully accepted at a com fundraiser. DPA, through its fiscal sponsor, The Center for Gender, Art, and Culture, has received funding from the Community Foundation of SCNY, the Broome United Way, Broome County Hotel/Motel, and a decentralization grant from NYS Council on the Arts through Chenango Co. Arts Council. (This project is made possible with public funds from the Chenango Arts Council's Decentralization Program,
 a re-grant program of the NYS Council on the Arts, with support from Governor Cuomo and the NYS Legislature.)
The DPA sponsored a Mural Fest at Cheri Lindsey Park in 2017 when the bath house mural was painted. In 2018-2019, Mural Fest moved to Floral Ave. Park in Johnson City where six murals were painted on park buildings. The Dept of Public Art was founded in 2012 and is a volunteer group that supports and creates art in the public realm.