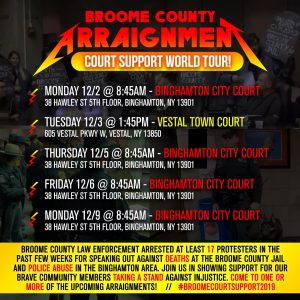 BINGHAMTON—This past Thursday, 11/21, community members participated in a direct action to draw attention to recurring deaths and systemic abuse at the Broome County Jail, as well as speak out against a proposed "harassment" bill designed to further criminalize Broome County residents. Demonstrators from various local organizations and community spaces converged on the Broome County Legislature and succeeded in disrupting the session and delaying the vote on the controversial bill.
During the action, local law enforcement assaulted and arrested 10 peaceful protesters — mostly women — and coordinated an attack on unarmed residents complete with SWAT units, attack dogs, and dozens of heavily armed officers.
Although 9 arrests have been reported by press and law enforcement, 10 individuals are confirmed to have been taken into custody and charged. Additionally, at least two protesters were placed under arrest by officials, but promptly released due to intervention from bystanders in the crowd.
PLOT previously announced our expectation that law enforcement would engage in a disproportionate show of force, but the level of force and aggression employed by officers was still shocking and overwhelming to many in attendance. Police on the scene sought to escalate and incite demonstrators, but they did not succeed in silencing the community, which remained resolute in their intention to protect the rights of Broome County residents.
Following the action, those arrested were transported nearby and chained to a pipe underneath the Binghamton Police Department for nearly ten hours, without food or medical attention for their injuries. All have since been released, and supports have been put in place in an effort to help keep them safe and address the traumas they so selflessly endured.
By conservative estimates, State and local law enforcement spent upwards of $10,000 in payroll and other resources to target and detain the handful of unarmed women and college students taken into custody.
Broome County Executive Jason Garnar criticized demonstrators after the protest, saying he didn't approve of meetings being disrupted by the community. He had previously vowed to sign the controversial bill into law when it passes the Legislative vote, which has been rescheduled for December 19th. Thursday's vote was postponed due to the demonstration, and a superficial amendment was passed removing the most egregious language from the bill, and instead replacing it with penal code referencing identical language.
In nearby Monroe County, where a similar bill has already passed a legislative vote, community members have scheduled a rally in the hopes of stopping Monroe County Executive Cheryl Dinolfo from signing the bill into law.
In the past few weeks, at least 17 protesters from throughout Broome County have been arrested for speaking out against the unjust actions of law enforcement. For those seeking to support these individuals, we encourage community members to attend one or more of the upcoming arraignment dates scheduled in December.
Although Thursday's direct action — like most recent actions — was coordinated by various community organizations and entities in Broome County, Black-led orgs like PLOT have been singled out by local press and law enforcement. This tactic is meant to exploit and enforce racist stereotypes and minimize the efforts of others speaking out in the broader community. The work being done locally to combat State violence is much bigger than any one organization, and we encourage residents to participate in radical organizing efforts seeking to uplift and empower the most marginalized.
Lastly, we would like to invite community members to attend one of our upcoming public meetings (the next one is scheduled for Dec 2nd), and our upcoming Bystander Intervention Training (scheduled for Jan 30th).