Third Thursday Art Talks 5-19-22 at 7 pm via Zoom and in person. Link here.
The Cooperative Gallery is sponsoring three artists, Barbara Bernstein, Ken Weir, and Steph Schweitzer in its May 6-28th show in a truly diverse offering. Barbara Bernstein has formerly worked in glass and is exhibiting her new directions in "Is There Life after Glass?"  Ken Weir continues to explore the use of patterns in "Still Life Paintings with Patterns." Steph Schweitzer offers his enigmatic "Flower Wars" for audiences to ponder his carefully staged flowers with shadows and saturated colors.
The Cooperative Gallery at 213 State St. in Binghamton is open First Friday from 5 pm to 9 pm and every other Friday from 5-8 pm and every Saturday from 11 am- 3 pm and by appointment with the artists. There will be no member show this month to accommodate the three artists. A Third Thursday Art Talk will be available in person and on line.
In "Is There Life After Glass?" Bernstein comments, "The framed faces in my show are all variations of the same initial drawing. The sculptures are part of my continuing work on how our bodies express emotions. The small sculptures made of polymer clay study the way our upper body reveals what we are feeling." Bernstein is a trained artist who has worked in glass for many years and also presents paintings, prints,and mixed media as part of her show.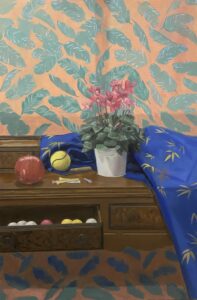 Ken Weir chooses still life to use patterning in dramatic ways in "Still Life Paintings with Patterns." He says this about his work in this show, "Working with patterns is not always easy. Each has a personality and often a brightness and boldness that compete with the main characters. In the paintings of this show, look for the movement of the patterns and the roles played by the still life objects." Ken usually works in figure paintings with unusual perspectives (and lately, patterns) but this show will be primarily still life.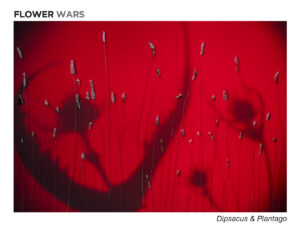 Steph Schweitzer is a "light painter" who captures depths, shadows and color in his latest studio photography work centered around the theme: "Flower Wars." The theme will intrigue audiences as they interpret his theme, which is how Schweitzer prefers to engage people in art. A video about Flower Wars, itself a work of art, is posted on YouTube.
The Cooperative Gallery has been an important presence in the arts scene downtown for 22 years and is known for innovative shows that often explore new media and directions in art. The City of Binghamton has designated the block "State of the Art" Street, which is now under construction. One way traffic from South to North will be open and the Broome County Arts Council which sponsors the First Friday Art Walk is offering a trolley to give people door to door access. There is also parking in the State St. ramp, a one block walk. For more information, consult www.cooperativegallery.com or email cooperativegallery213@gmail.com.