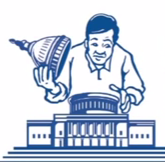 Below is a recap of all the free, powerful tools Vote Smart has to offer to give you peace of mind that you're electing the right people to represent you this November.
ISPY: Enables every citizen to research the records of over 40,000 politicians in a keyword searchable database: every biography, vote, issue position, rating, speech, and political contribution received. It's easy: just choose a politician you're interested in learning more about and quickly find every fact about them from the above categories.  Try Out ISpy Now!
POLITICAL GALAXY: Takes each voter on a ride through the universe of facts on any politician. Just select an issue and instantly arrive at every fact related to that person on that issue.
VOTE EASY: Enter your position on a dozen of the nation's most pressing issues and instantly find every fact related to that person on that issue. Quickly see which candidates best align with your views on the issues that matter most, as the yard signs move forward in agreement or recede based on their public record. Find Your Political Soulmate With VoteEasy!
MYVOTESMART: Register any politician of interest and we will notify you via email as soon as new data on that politician is entered into our database.
ONPOINT: Our new mobile app available for both Apple and Android devices is designed to give each citizen the power to track their representatives and candidates. The app curates the most relevant facts based on your location.
What Can OnPoint Tell You About Your Representatives?
How they voted on key issues
Every public comment they have made on those key issues
How over 200 special interest groups have graded their actions
Get the Facts at Your Fingertips: Click Here to Download OnPoint!
VOTER'S SELF-DEFENSE MANUAL: Our newly published Voter's Self-Defense Manual contains a sampling of Vote Smart's massive database on candidates and elected officials. This guide is a gift from our thousands of staff, interns and volunteers from over the years, as a starting point for you to get direct access to information you need to feel confident about your choices on election day. This manual includes Congressional members' political courage, voting records, interest group ratings, campaign contributions and contact information.
Our manuals are available for FREE, request a printed copy by calling 515-989-6363 or download a PDF version today! You can also email membership@votesmart.org to request our materials.