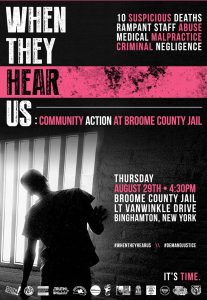 Broome County is a national outlier in discriminatory jailing—having the HIGHEST incarceration rate in the entire state of New York. The incarceration rate of Black people in Broome County is more than TEN TIMES the rate of whites—which is DOUBLE the national average. The crisis of mass incarceration and criminalization has devastated our families, friends, and communities.
The vast majority of those being held in Broome County jail are un-convicted. Most suffer from serious mental health and/or substance use disorders. And overwhelmingly, individuals remain incarcerated solely because they lack the financial resources to post bail.
At least ten persons incarcerated in Broome County Jail have died in recent years due to negligence, medical misconduct, and outright abuse. The most recent victim was Rob Card, who died this year after being held and denied medical intervention for 13 days.
To honor the memory of those killed and imprisoned in Broome County Jail, and to support the surviving victims and family members in their fight for justice, our community will be hosting a month-long series of film screenings and community discussions focused on our local and national incarceration crises. (RSVP: When They See Us Public Screening) Screenings will feature the critically acclaimed docu-series "When They See Us," with commentary from individuals directly impacted by mass incarceration. At the conclusion of the screenings, we will be descending on the jail to rally and remind those in power that we are watching them, and are unified in ending their abusive practices.
Please join us in uplifting the voices of those being abused and exploited in Broome County Jail and beyond, so that our collective communities can hear their plight and #DemandJustice.
Thursday at 4:30 PM – 6:30 PM
August 29
Lt Vanwinkle Dr, Binghamton, NY 13905
the south entrance of SUNY Broome
BRING SIGNS
It's time.
#WhenTheyHearUs
In solidarity:
Citizen Action of New York – Southern Tier Chapter
PLOT: Progressive Leaders Of Tomorrow
Justice and Unity for the Southern Tier – JUST
Truth Pharm
Indivisible Binghamton
–
Frances Beal Society
Binghamton University Progressives
Buffalo AntiRacism Coalition Official
Black Lives Matter Syracuse New York
DSA Binghamton
Binghamton Food Rescue
&