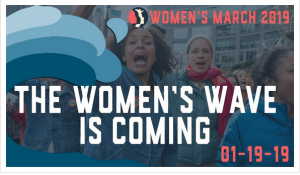 Bus from Oneonta, Sidney and Binghamton!
January 19th 2019
Join us!
The Women's March in Washington DC is scheduled for 10AM – 5PM Saturday January 19th. Round trip bus travel has been arranged from Oneonta, Sidney and Binghamton. Riders will board late-night Friday 18th, arriving in the morning Saturday 19th, returning later the same night. Tickets are $80 each. Contact Amy Pondolfino at BVIndivisible@gmail.com or call 607-267-0493 for details and payment. All tickets must be paid in full by Friday January 4th to guarantee your seat.
We in the Oneonta NY and surrounding areas have been inspired to participate in what we hope can become a truly inclusive movement for social justice. The march centers around a variety of issues, especially women's rights, humane immigration policies, affordable health care, environmental protections, LGBTQ rights, racial justice, freedom of religion, and workers' rights.
This trip is sponsored by March Forward Oneonta. Facebook event: https://www.facebook.com/events/247068642644292/
Everyone participating in this event is expected to abide by all applicable laws and lawful orders of authorities.