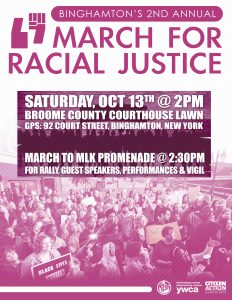 Saturday, October 13th, join us for Binghamton's 2nd Annual March for Racial Justice—a follow-up to last year's widely attended national #M4RJ racial justice march.
This year's theme is "Black Women Lead" and we plan to highlight and expand upon the tangible anti-racism work being done right here in the Southern Tier. We will have speakers from a variety of social justice orgs and entities, musical and spoken word performances from local artists of color, opportunities to volunteer and learn how to dismantle white supremacy and all forms of oppression in our homes, schools, workplaces, and communities.
We'll also be highlighting three recent incidents of racialized state violence occurring in the Southern Tier:
Rec Park Child Assault
YWCA Police Assault
Binghamton High School Student Assault
All of these incidents demonstrate the importance of taking a pro-active and assertive stance against white supremacy in our communities.
You can financially contribute to our coordination fund here:
VOLUNTEERS SIGN UP HERE:
RSVP HERE: