Support Black Business and the Cooperative Gallery 213 Present BIPOC Artists Pop -UpCalling all artists! I'm working on a project with the Cooperative Gallery to showcase BIPOC artists and photographers! There is a 20% commission fee that for gallery overhead from sale of art or prints purchase.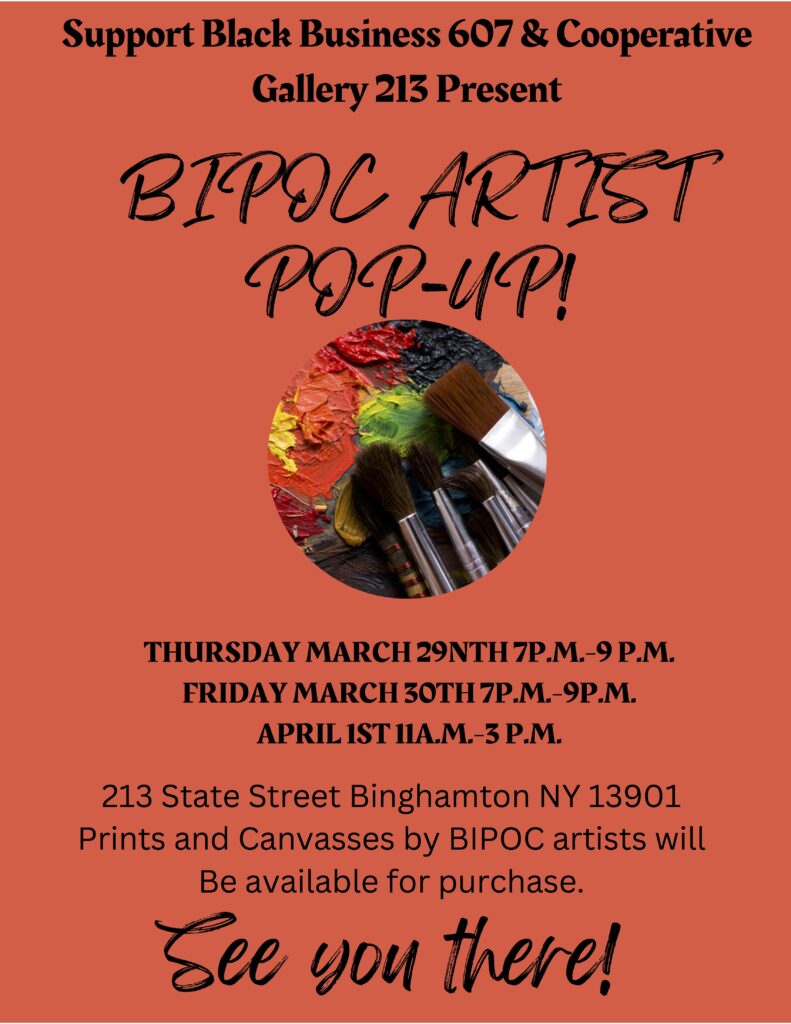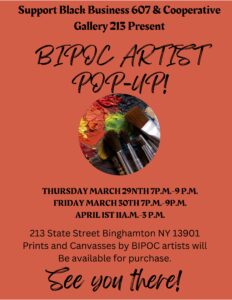 The Pop-Up  will be from thurs. Mach 29to Saturday April 1st  Tuesday March 28th 5-8 pm "I think it will be great for exposure of artist's work,and a great opportunity says Sulaiminah Burns, founder of the Facebook page and networking site Support Black Business 607 " Messenger her at the page if you are interested. All welcome! Her group sponsors events to expose businesses to larger audiences and is also collaborating with theKoffman Incubator to teach business skills to interested entrepreneurs. For more information consult their Facebook page.
Submissions must be 8X10 inch minimum, framed with a hanging wire. Every submission must have the artist's name and contact information on the back of the piece. Two labels with the Title, Artist's name, media (such as painting, photography, etc.) and price or if not for sale, NFS. No entry fee but there is a 20% commission fee for gallery overhead deducted from sale of art or purchase.

The Cooperative Gallery 213 often has "Fifth Weekend" Pop-Up events when there is an extra weekend in a quarter. The gallery, now in its 23rd year, has over 120 artists, both exhibiting and supporting members that have created a friendly, welcoming gallery and it is a popular stop on the First Friday Art Walk. New exhibits are presented every month opening on the First Friday of every month from 5- 9 pm Regular hours are Fridays 5-8 pm and Saturdays 11 am- 3 pm and by appointment. For more information visit the website at www.CooperativeGallery.com and the gallery's Facebook page and Instagram account.