Community Activists Rally on COVID in the BC Jail
The dire predictions of activists and health experts have come true. The Broome County Jail, for the secon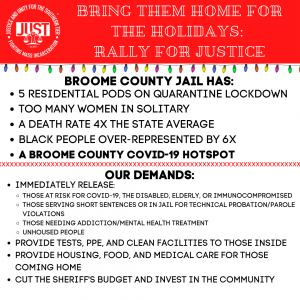 d time this year, is a COVID-19 hotspot. This was anticipated. Yet county officials did little to prevent or mitigate outbreaks.
After initially denying the outbreak's significance, county leaders have been forced to acknowledge the outbreak's severity. Little other information has been provided to the community or incarcerated people. No hard numbers of cases or tests conducted have been offered.
A few things are clear: pods throughout the jail are on lock-down, transfers to programs and state facilities are suspended, incarcerated people's access to communications are limited, and court actions are even slower than usual. The vast majority of persons in the jail are convicted of nothing, lingering there on minor charges or technical parole/probation charges. There is no programming, no consistent medical/sanitation care, and almost everyone is in unsanitary solitary conditions. COs routinely refuse to wear masks. People in the Broome County Jail are not just incarcerated, they are trapped and forced to catch COVID.
On Saturday Broome County community organizations and the friends and families of the incarcerated will be holding a closed car rally on Lt. Van Winkle Drive at Noon to protest these intolerable conditions. We want our loved ones home and in safe conditions.
They are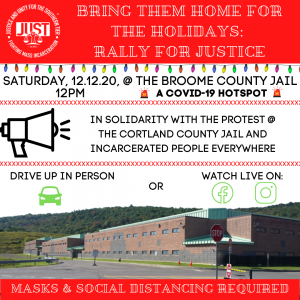 calling on the county to:
Immediately release anyone at high risk for infection, the disabled, elderly, or immunocompromised

Release those serving short sentences or for probation/parole violations

Provide testing, sanitation supplies, medical treatment, and adequate nutrition

Report regularly on the number of tests and positivity rate for staff and incarcerated

Ensure those coming home have a discharge and treatment plan, including medical needs, food, and housing resources

Ensure COs wear masks when in the facility and suspend those who refuse.

Make phone/video calls free and end predatory commissary pricing

Provide transparent, public dissemination of these measures

Cut the sheriff's budget and reinvest those resources in supports for low-income people
Folks unable to get to the facility can watch on the JUST facebook page or instagram. Anyone wishing to speak who cannot attend–prioritizing people with direct experience in the jail–should reply to this message.