Broome County Inmate Hospitalized with Life-Threatening Burns Following Medical Negligence
A Local Man Is the Latest to Sustain Serious Injuries Related to Medical Malpractice at Broome County Jail
Release from Binghamton PLOT
Sep 16
A man being held in Broome County Jail was rushed to the Clark Burn Center of Upstate University Hospital (UUH) in Syracuse this weekend after sustaining life-threatening chemical burns to the mucous membranes of his face, throat, chest, and internal organs. The patient, Rodney McPherson, remains in intensive care after being given the wrong medication while detained in Broome County, and reportedly having his wounds ignored for weeks by jail staff.
Although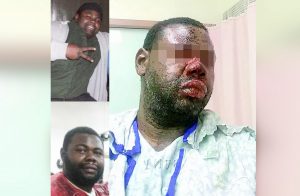 McPherson filed a grievance and administrators were aware of his visibly worsening condition, it wasn't until community organizers—including Alexis Pleus, Executive Director of local advocacy group Truth Pharm—pressured Sheriff David Harder to review McPherson's injuries that Harder agreed to "look into" the matter, sources say.
After reviewing McPherson's condition, Harder reportedly had McPherson released on his own recognizance and transported to a local hospital for emergency treatment. Due to the seriousness of his injuries, McPherson was then transferred to the burn center at UUH.
Releasing dying inmates into hospital care has become a pattern for the jail — which boasts the highest incarceration rate in New York State. In January, another inmate, Robert Card, was released to Wilson Hospital after being denied treatment by jail staff. The hospital told Card's family that he was already brain dead upon arrival.
Many community members believe Harder and his administration intentionally release individuals when they are on the brink of death to escape culpability. Additionally, by releasing inmates in critical condition, the jail can pass mounting medical expenses — often exceeding hundreds of thousands of dollars — on to tax payers and/or the surviving families.
Sheriff David Harder denies any responsibility for the abuse or deaths plaguing the Broome County Jail
Members of Robert Card's family say Broome County District Attorney, Steve Cornwell, investigated Card's death earlier this spring and conceded that Harder was at fault, though he is unlikely to file criminal charges.
Late last month, nearly 200 protesters rallied at the jail to demand answers for rampant abuse resulting in a record-breaking 10 inmate deaths in recent years. Harder's response to that rally was that community members "had no idea what they were saying, and they were believing lies."
With this latest confirmed instance of medical negligence, local advocates are asking concerned individuals to personally contact DA Cornwell, and Broome County Executive Jason Garnar, to insist they call for the immediate resignation of Sheriff Harder. Their contact information is referenced below.
This story is developing.