Michal Heiman: Chronically Linked
September 8 – December 10
Opening Reception
Thursday, September 8, 5:00pm – 7:00pm
Main Gallery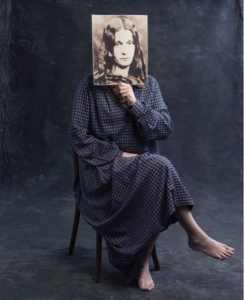 The Binghamton University Art Museum in Binghamton, NY announces the opening of Michal Heiman: Chronically Linked. It is on view September 8 through December 10, 2022 in the main gallery and mezzanine of the Art Museum, located in the Fine Arts Building. All Fall 2022 exhibitions will open Thursday, September 8, 5-7 pm. The opening reception is free and open to the public.
Featuring photographs, videos, and archival materials, the exhibition explores the intersections of psychoanalysis, asylums, and oppression through recent projects including Michal Heiman Tests (1997-2012); Radical Link: A New Community of Women, 1855-2022 (2013-present); and Hearing (2020). The latter projects found their genesis in 2013 when Heiman, doing research for another project, encountered a photograph of a young woman taken around 1855 at the Surrey County Lunatic Asylum in London by Dr. Hugh Welch Diamond. A few years later, Heiman found a similar image, this of Maria Dominica D'Alberto who was photographed by Oreste Bertani at the San Servolo Asylum in Venice in January 1880. Heiman recognized a version of herself in both images, thus setting her on a path to recontextualize the photographs through her artistic process and research. The exhibition is organized by curator of collections and exhibitions, Claire L. Kovacs.
In conjunction with the Michal Heiman exhibition is Unconventional Care: The Mission of the NYS Inebriate Asylum. It is on view in the Museum's lower galleries, along with Death in Venice: Bright Scenes with Dark Themes, curated by Eliana Ellerton '23; Beau Idéal: American Love and Life, curated by Taylor Garris '23; and Returning to Touch, curated by Aaron Berkowitz '23.
For details on upcoming programming see our "Events" page + social media.
Michal Heiman (b. 1954, based in Tel Aviv) is an artist, a member of the Tel-Aviv Institute for Contemporary Psychoanalysis, curator, theoretician and activist, founder of the Photographer Unknown archive (1984), creator of the Michal Heiman Tests (M.H.T.s)1–4, and the first winner of the Shpilman International Prize for Excellence in Photography in collaboration with the Israel Museum, Jerusalem, 2010. Heiman has been developing a new discipline that inhabits a field between art and therapy, photography and diagnosis, theory and praxis. Her work offers alternative thematic, aesthetic, and theoretical matrices, often woven into the fabric of psychoanalytic theory. In 2022, she has been appointed as curator of Tel-Aviv Institute for Contemporary Psychoanalysis' virtual gallery.
Michal Heiman, Radical Link: A New Community of Women, 1855-2022, Mask: "Plate 34: My Self," detail from a manipulated photograph by Dr. Hugh W. Diamond, 1855, 2016, photograph. Courtesy of the artist.