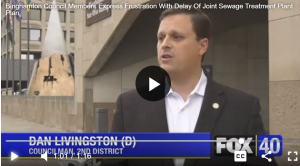 Over the last ten months, I have been regularly reminded of just how terrible some people will behave when they are entrusted with the power and authority of public offices, and at the same time, repeatedly reminded of just how much one person can accomplish for the benefit of their community using the power and authority of a public office.
The corruption of power that we see at the state and national level exists right here in our own city. Public resources are regularly used right here in Binghamton for personal gain, and towards political ends. While many of us have come to accept these circumstances as normal, I want to remind you all that what's going on is not inevitable and it's not OK.
It is incumbent on each of us as citizens to push back against what seems inevitable when it is wrong, and to fight the normalization of the corruption of our public institutions; when we stand up and push back against corrupt institutions and processes we begin to discover how fragile corruption truly is. Corruption takes place in the back rooms and behind closed doors precisely because it is abhorrent to look upon.
If you take nothing else from my time in office, then I would leave you with this: there is nobody coming to deliver us from broken politics – we must all save ourselves from the systems that have beset themselves upon us when they are meant to serve us.
Though I lost an election, understand that I would never have been able to accomplish all of what needed to be done without a community that was actively engaged and working towards greater accountability through increased participation. Our democratic institutions were never meant to function without a basic level of participation from ordinary citizens. Certainly, you should vote, but you need to do more.
Your community is crying out for help right now, so what are you waiting for?