"Day By Day" Opens First Friday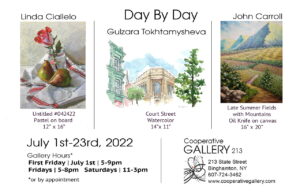 Three artists at the Cooperative Gallery join together to present "Day By Day" opening First Friday July 1st and continuing through July 23rd. John Carroll works in oil, Linda Ciallelo paints still life and figures in pastels and oil, and Gulzara Tokhtamysheva paints landscapes in watercolor. The gallery is regularly open Fridays 5-8 pm (until 9 on First Friday) Saturdays 11 am – 3 pm, and by appointment with the artists.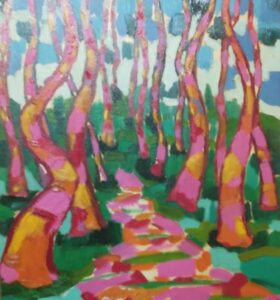 John Carroll paints still life and landscapes, often in surrealistic colors as well as beautiful miniatures. Of his work he comments, "I devoted years of study to the understanding of materials and their possible ramifications in applications and finished works. I make my own pigments, including lead white base. Knowing my materials so thoroughly helps me translate technique into personal expression."
Gulzara Tokhtamysheva paints in watercolor
and is also a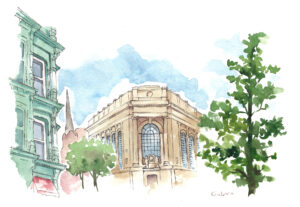 book illustrator. She says of her process,   "My work reflects a never ending dialogue with myself, what I was, what I can and cannot be. I speak to what I see and what I pretend to be. My ordinary surroundings become my ordinary paintings if they were important to me for a moment."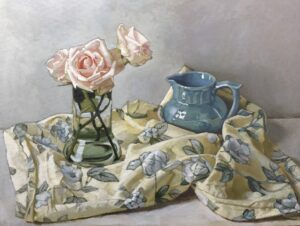 Linda Ciallelo states, "When I paint I feel like I am walking the fine line between traditional Realism and Impressionism. I have expanded my palette recently, both in my pastel and my oil paintings. I hope to produce some larger, more daring Figurative paintings after this show. I feel the pull of more contemporary compositions."
The Cooperative Gallery 213 in Binghamton is in its 22nd year of presenting local artists' work and sustaining a community around visual arts. A regular feature is Third Thursday Art Talk with current exhibiting artists presented by Zoom and in person, this month on July 21at 7 pm. In spite of construction on State St. the downtown gallery is open Fridays 5- 8 pm and Saturdays 11 am to 3 pm as work stops evenings and weekends. The gallery publishes a weekly e-newsletter and provides images and videos of shows on its social media. For more information email cooperativegallery213@gmail.com.