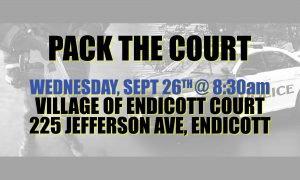 On Sunday September 16th, Endicott police tased a Black man with a pacemaker—causing him to suffer a heart attack, and subsequently assaulted a Black woman who were witness to a car accident on Odell Ave. The tased man had helped free one of the car crash victims shortly before police arrived.
Details of the incident can be found here: Please read!  (https://tinyurl.com/EndicottCopAssault)
The Black man and woman, who are residents near the scene, have now been charged with disorderly conduct and resisting arrest. Police claim the individuals inexplicably became irate upon the sight of police officers and began cursing at them for no apparent reason. The man and woman say that is not the case, and that police aggressively confronted them, despite their role in helping the crash victims and warnings that one of them had a pacemaker.