A Moses Hogan Celebration: A Massed Choir
May 18, 2019 @ 6:00 pm

-

8:00 pm
By Lee Shepherd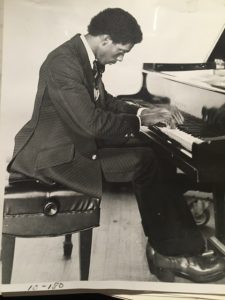 "…If you love music… you can't help but be moved by the music of the spiritual… it's the text that is the most important aspect of spirituals, it's not always the beat, and its message of hope and suffering and hope for a better day. You don't necessarily have to be African-American to have hope for a better day."
Those memorable words are attributed to the late Moses Hogan (1957-2003), one of the premiere arrangers of Negro spirituals that the world has ever known.
Members of the Madrigal Choir of Binghamton, Binghamton High School Choirs, Tabernacle United Methodist and Trinity Memorial churches will form a massed choir, led by Dr. Bruce Borton, to celebrate his life and music at "A Moses Hogan Celebration" at 7 pm on Saturday, May 18 at Trinity Memorial Episcopal Church, 44 Main St., Binghamton. The concert is free, but there will be a free-will offering and canned goods collected for CHOW.
Internationally-acclaimed countertenor Derek Lee Ragin, Hogan's Oberlin classmate, musical collaborator and close friend, will solo with the choir, accompanied by pianist Jean Henssler, and sing solos, accompanied by pianist Margaret Reitz.
The concert is sponsored by The Broome County Council of Churches, GHS Federal Credit Union, Spotlight Restaurant and the Broome County Arts Council.
In addition, a pre-concert lecture at 6:15 pm will be given by Hogan scholar Theresa Lee-Whiting, music director of Tabernacle Methodist, and Dr. Ava Hogan-Chapman, Hogan's sister, an assistant professor of clinical experience and teacher education at Georgia Gwinnett College in Lawrenceville, Ga.
With the goal of making this event community wide, the Binghamton High School Choirs were invited to participate. "The BHS Choral students are thrilled to be singing with the Binghamton Madrigal Choir at the Moses Hogan Concert! We are very thankful for the opportunity to learn this genre of music and to perform with such wonderful musicians!" says Jennifer Easley, BHS Choral Director.
Hogan described his life's work as this: "I feel a sense, a responsibility, to carry on the wonderful mission of the unknown bards who created the spiritual, whom we are not privy to know their names. And I enjoy a success and having my name published on various arrangements, but we are not privy to know the names of the individuals who created the text for Swing Low, Sweet Chariot."
So what path led Hogan to a career as a spiritual arranger?
Hogan's mother Gloria explained it this way to Lee-Whiting in a phone interview for her master's thesis about Hogan. "When Moses was about 5, I was reading in Ebony magazine about successful professional African-Americans like doctors and lawyers, and I said to him, 'Moses, when you grow up you're going to be like one of these people.' Moses replied, 'Mama, let me tell you one thing. When I grow up I'm going to play the organ and piano.' And then he stomped his foot."
Hogan fulfilled that wish. He became an organist and pianist, as well as a composer and an arranger of spirituals, and a fine choral conductor.
Hogan grew up in New Orleans, a hotbed of jazz history and home to many giants in the jazz world, including Jelly Roll Morton, Louis Armstrong and the Marsalis family. Moses grew to love the vibrant, historic and musical city of New Orleans in which he was raised, and although he had opportunities to live elsewhere, he always came back home to New Orleans where he thrived.
His family was too poor to buy a real piano, so his mom bought him a 98-cent piano from the local Woolworth's. He played it so much that it frequently broke and she had to buy him a new one.
Two of Hogan's uncles were musicians. Uncle Wilbert was a drummer who played with Ray Charles, and Uncle Edwin B. was a pianist who sometimes played for gospel singer Mahalia Jackson. Hogan followed in the footsteps of Edwin, who hired the seven-year-old lad to play gospel music by ear for the church's Sunday school. At that point in his life, he played everything by ear because he refused to learn to read music.
But that all changed during Hogan's "classical period," which began when he heard his 8th grade teacher Marie Moten play Rachmaninoff's Prelude in C# minor during a school assembly. Hogan was so "blown away" by her performance that he ran up to her on stage afterward and asked if she'd teach him. She agreed and never charged him for lessons over the next six years. And he learned how to read music, finally.
When Hogan began high school, he attended a new half-day program for the arts (New Orleans Center for Creative Arts) with classmate Wynton Marsalis. During those years, he practiced piano nearly eight hours a day, which enabled him to perform as a high school junior with the New Orleans Symphony – an accomplishment that had been an important goal of his. He was the first student to give a senior recital, an advanced program of works by J.S. Bach, Beethoven, Mendelssohn, Chopin and Khatchaturian.
His first choral group, the New World Ensemble followed in the footsteps of the Fisk Jubilee Singers. The well-trained musicians sang traditional choral works. But like the Fisk Jubilee Singers, they found that audiences really enjoyed hearing spirituals. And because they couldn't afford to buy a lot of music, Hogan began arranging.
Hogan soon realized that he must make spirituals and his choral work the focus of his musical life. He merged the New World Ensemble with his New Orleans Heritage Singers to become the Moses Hogan Chorale and they toured widely.
Of his life's work, Hogan said, "These songs that we call spirituals, initially they were created by the slaves who were not allowed to read or write by law, and out of those conditions a song developed, and I think that's a bit of genius.
"I'm always amazed by the young people who have never heard the spiritual arrangements or they may feel that spirituals equate with slavery and if we sing spirituals we are trying to bring back slavery," Hogan said. "How far from the truth we can be because this is very significant music. It's music history… melodies and tunes now available for choirs of all races to sing."
Fame blessed Hogan in the 1990s when in 1994, well-known composer Dr. Andre Thomas heard his arrangement of Elijah Rock at a regional convention of choral conductors. The audience went crazy for the music and Hal Leonard quickly published the work, which immediately sold 25,000 copies. The rest, as they say, is history and Hogan has sold over two million copies of his arrangements to choirs all over the world.
Featured performer, countertenor Derek Lee Ragin has enjoyed an international career singing opera with the Metropolitan Opera, and in the Salzburg and Rheingau Music Festivals. You can find his performances on the Telarc, Philips, EMI, Erato and Capriccio labels. He earned great renown when he sang the role of Farinelli in the Golden Globe award-winning film of the same name, with his voice electronically merged with Ewa Malas-Godlewska's to recreate the sound of the famous castrato.
Ragin often joined Hogan and his choir for live performances and sang with them on many of their CDs. A highlight of the May 18 concert will be a performance by Ragin of the strange and wonderful "Walking to Babylon" composed by U.K. author, filmmaker and educator Keith Rodway, and accompanied by pianist Pej Reitz, violist Mary Diegert and Lee-Whiting on synthesizer with guest soprano, 13-year-old Amiah Afify.
Also on the program is a medley, His Light Still Shines, which is about Dr. Martin Luther King Jr., and will be narrated by Sharon Ball.
Sadly, Hogan died at the age of 45 of a brain tumor. But his spirit lives on, lessons of hope delivered in song as long as his arrangements are sung.
Dr. Ava Hogan-Chapman, Moses' Hogan's sister and an author, will discuss her book, "Soul Fruit: Daily Thoughts With God," at 1 pm on Sunday, May 19, at Tabernacle Methodist Church, 83 Main St., Binghamton. In her book, she describes how her faith helped her recover from a life-threatening stroke.