No Gods No Masters No Peripheries: Global Anarchisms
August 10, 2018 @ 5:30 pm

-

6:30 pm
On Friday August 10th, The Bundy Museum of History and Art, WBDY-LP, and PM Press  are sponsoring a presentation on "No Gods No Masters No Peripheries: Global Anarchisms," with the editors, both Cornell Professors. Q&A will follow.
The event is, as always, free. Flier and press release are attached. If you find the event interesting, please pass it along to others who also may be interested. Event starts at 5:30, doors open at 5pm.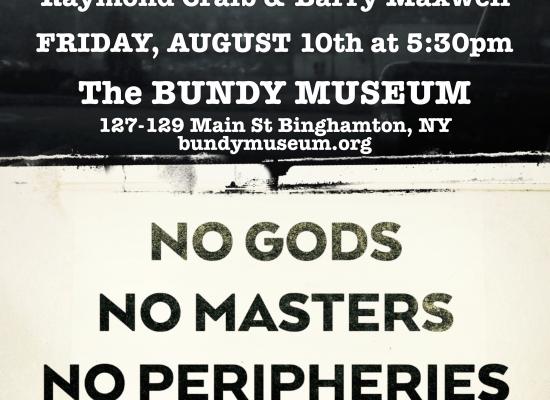 Sponsored by The Bundy Museum of History and Art, PM Press, and Binghamton Community Radio, WBDY-LP (99.5FM)
"No Gods No Masters No Peripheries: Global Anarchisms." A book presentation and Q&A with the editors at the Bundy Museum of History and Art
On Friday, August 10th, at the Bundy Museum of History and Art Annex, Cornell University scholars Barry Maxwell and Raymond Craib will discuss their edited volume, "No Gods No Masters No Peripheries: Global Anarchisms." After their presentation, audience members will be welcome to ask questions. This event is part of a continuing initiative by the Bundy Museum and WBDY-LP (99.5FM) to bring high quality historical programming to the Binghamton community.
The research collected in the volume emphasizes the plural origins of anarchist thought and practice and reflects on the histories and cultures of anti-statist mutual aid movements beyond the boundaries of an artificially coherent Europe. At the same time, the essays reexamine the historical relationships between anarchism and communism without starting from the position of sectarian difference (Marxism versus anarchism). Rather, they look at how anarchism and communism intersected; how the insurgent Left could appear—and in fact was—much more ecumenical, capacious, and eclectic than frequently portrayed. They reveal that such capaciousness is a hallmark of anarchist practice, which is prefigurative in its politics and antihierarchical and antidogmatic in its ethics.
Raymond Craib and Barry Maxwell teach in the Department of History and the Departments of Comparative Literature and American Studies at Cornell University, respectively. Craib is the author of Cartographic Mexico: A History of State Fixations and Fugitive Landscapes and The Cry of the Renegade: Politics and Poetry in Interwar Chile. Maxwell has written about Frederick Douglass, Walt Whitman, Kenneth Burke, Ernst Bloch, Walter Benjamin, David Hammons, Sun Ra, Miles Davis, Gwendolyn Brooks, Nathaniel Mackey and Will Alexander..
Books, including from other PM Press authors, will be available for purchase before and after the presentation. The Bundy Museum gift shop will also have PM Press volumes in stock. Prior to the event, WBDY-LP (99.5 FM) will be previewing the event on the Bundy Radio Hour (8am and 6pm weekdays) through an interview with the authors.