Thorne Arnold in "My Backyard" and Gilligan Paints "Flow"
May 31, 2018 @ 6:00 pm

-

8:00 pm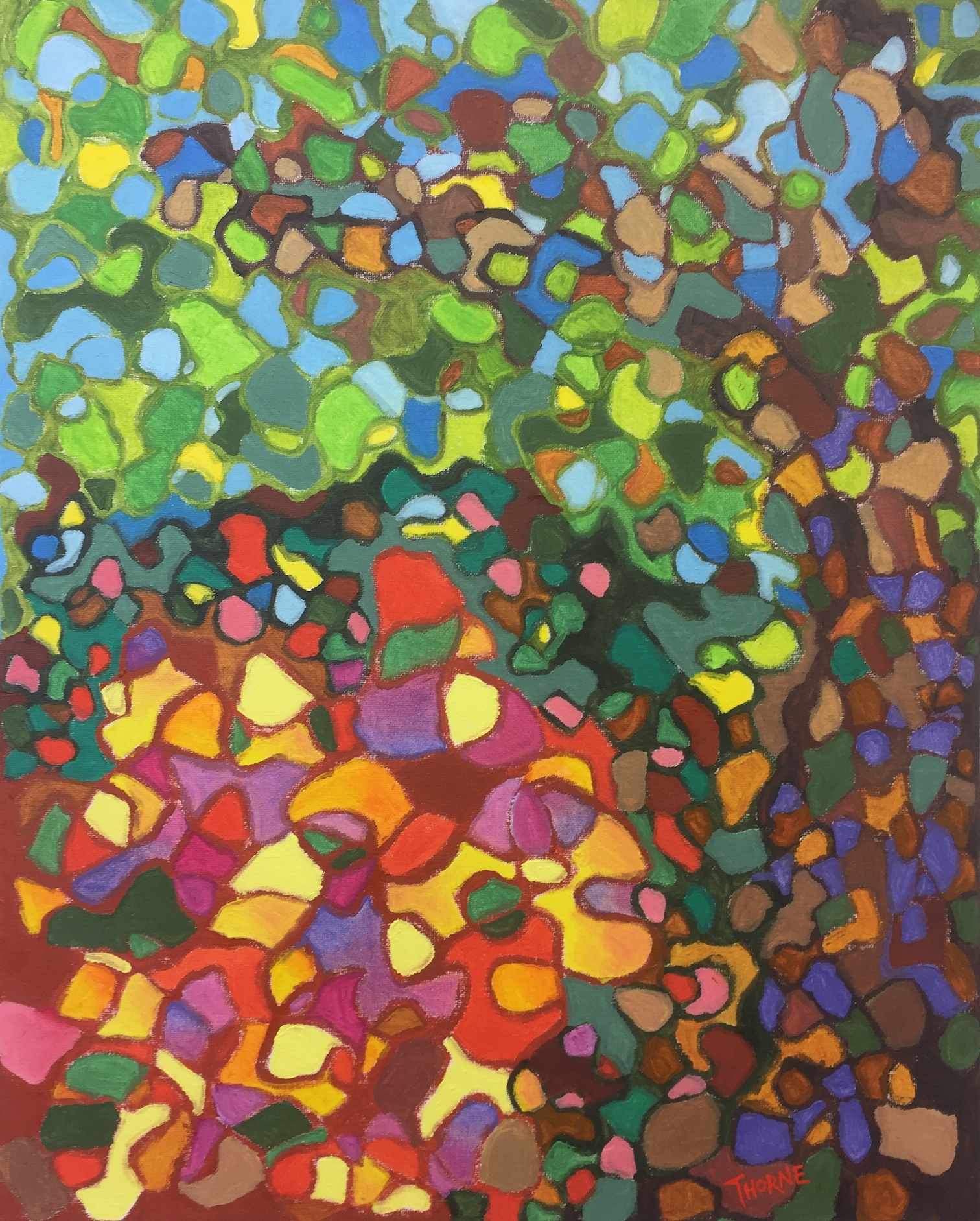 The Cooperative Gallery 213 will present two exhibits by Joanne Thorne Arnold titled "My Backyard" and "Flow" by Carolyn Gilligan opening May 31 from 6-8 pm and First Friday from 3-9pm. Both artists will give brief Artist's Talks at 7 pm at the Thursday Opening Reception. The exhibit will run through June 24 and is available to the public Fridays 3-6 pm and Saturdays 12-4 pm.  Both experienced artists are exploring new techniques in painting. On June 21st at 7 pm they will discuss  "Unconventional Materials, Unconventional Tools" at the Third Thursday Discussion series.
"My Backyard" is a new series of oil paintings by colorist Joanne Thorne Arnold.  The exhibit is inspired by gardens and the natural beauty of our area.  The work is resolved ? with the unorthodox tool of cotton tipped swab applicators. Thorne Arnold describes her process of creating abstract paintings: "Using something other than a traditional paint brush has forced me to experiment with the exploration of line. Many of the compositions are reminiscent of a Tiffany glass landscape." She continues, "With this technique I've captured the labor of planting, weeding and pruning, springs blossoms, sunny days, peaceful sunsets and twinkling night skies."  Joanne Thorne Arnold is also exhibiting "Sustained Rhythms" at the Dryden Gallery in Providence, Rhode Island.  The show is up until July fourteenth.
Carolyn Gilligan has titled her new show FLOW. Flow is what water does on the painting surface. Flow is what Carolyn sees in water as it moves, reflects and distorts in so many beautiful ways. Flow is also what her mind does as it goes to a space deep within … a timeless place. Carolyn has been using a very slippery surface called Yupo that allows more flow and more vibrant color," she explains. "My new paintings continue my impressions of water and sky as the color and water flow!"
The Cooperative Gallery, a popular stop on the First Friday Art Walk, located at Artists Row at 213 State Street in Binghamton, is open on First Friday 3- 9 pm and regularly Fridays from 3-6 and Saturdays from 12- 4 pm.  A free weekly e-newsletter is available by signing up at  www.cooperativegallery.com or on Facebook  at Cooperative Gallery 213.