"Women of Words" Poetry Event
April 12, 2022 @ 6:30 pm

-

7:30 pm
Broome County Arts Council Artisan Gallery Hosts "Women of Words" Poetry Event
April 12, 2022 6:30PM – 8:00PM at Orazio Salati Studio and Gallery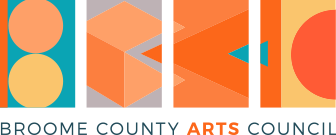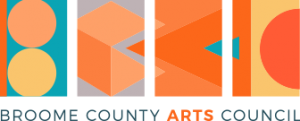 BINGHAMTON, NY. In honor of National Poetry Month, Artisan Gallery is pleased to present "Women of Words" featuring local poets Jessica Dubey, Wendy Stewart, Merrill Douglas, Joanne Corey and Carol Mikoda. This reading will be held within the Spring Awakening Exhibition located at the Orazio Salati Studio & Gallery @ 204 State Street, Binghamton.
Please come and enjoy the art of renewal with all of your senses! The event is free and open to the public. However, space is limited, so RSVP by emailing Connie Barnes, Gallery Manager at cbarnes@broomearts.org to reserve your seats.
Merrill Douglas is the author of the poetry chapbook Parking Meters into Mermaids (2020, Finishing Line Press). Her work has also appeared in Baltimore Review, Barrow Street, Tar River Poetry, Stone Canoe, Cimarron Review, Paterson Literary Review and Comstock Review, among other journals. She earned a BA from Sarah Lawrence College and an MA in English from Binghamton University. She lives in Vestal, where she runs a freelance writing business.
Joanne Corey re-discovered her childhood love of writing poetry in her fifties. Her local poetry community includes the Binghamton Poetry Project, Broome County Arts Council, Grapevine Group, and Sappho's Circle. With the Boiler House Poets Collective, she has completed an (almost) annual residency week at the Massachusetts Museum of Contemporary Art in North Adams since 2015.
Jessica Dubey is a lifelong resident of the Triple Cities Area of upstate New York. She is a member of the Boiler House Poets Collective which convenes annually for a poetry residency at The Studios of the Massachusetts Museum of Contemporary Art. She was a 2018 nominee for a Best of the Net Award and was Kissing Dynamite's September 2019 featured poet. Her work has appeared in numerous journals including Oxidant | Engine, Barren Magazine, Gulf Stream Literary Magazine, The American Journal of Poetry, IthacaLit, and many others. Her first chapbook, For Dear Life, is forthcoming from Finishing Line Press.
Wendy Stewart is a Canadian who lives in Vestal, New York with her family and teaches first-year college writing, from home for this past year. She's published poems, creative nonfiction, essays, humor, and artwork in Our Voices, ragazine.cc, San Pedro River Review, and The Afterlife of Discarded Objects, a digital collective story-telling project and book. She thinks people are the best and misses them.
Carol Mikoda (she/her), a long-time resident of Windsor, is a retired educator, mother of two sons, poet, musician, observer, and walker who writes from the eastern shore of Seneca Lake in Hector, New York, where she lives with her partner. Her work has appeared or is forthcoming in Bluff& Vine, New Feathers Anthology, Capsule Stories, Anatolios, HOLY FLEA!, and other literary journals. Her new chapbook, While You Wait from Scars Publications, is described as "Poems that console and comfort when the civilized world goes awry around us, poems that focus on the natural world to reveal larger lessons gleaned from time spent outside, poems that draw a sigh or gasp of recognition."