In an April 28, 2017 Press and Sun Bulletin article about Mayor David's real estate holdings and potential conflicts of interest, the reporter noted that Rich David made a promise not to purchase any properties while serving as Mayor.
"While he's mayor, though, he will not purchase any commercial properties, he said in a March interview, a nod to questions about conflicts of interest that could come from such a purchase." (Press and Sun Bulletin, 4/28/17)
However, an investigation by Binghamton Bridge has revealed that Mayor David broke that pledge.
In the summer of 2018, Rich David purchased a large rental property at 162 Chapin Street for $550,000 using a limited liability corporation (LLC) to shield his identity.
And in October 2020, Mayor David sold the property for $590,000 to an LLC created by a couple of members of an influential group of real estate investors that have been building and/or managing a sizable portfolio of student housing properties over the years.
In August of 2021, the new owners, now organized as an equity firm (which means there could be a number of silent investors that will benefit significantly from this real estate transaction), re-listed 162 Chapin for sale. The asking price is $1,249,000.
This article will first explain how this discovery was made, walking residents through some public databases that can be used to help identify property owners and real estate trends in Broome County. The second part of this article raises some questions about perceived conflict of interests that surround both the purchase and sale of this property. The third part is how Mayor David's self-enriching, secret real estate deal is worsening the rental housing crisis for non-student residents, particularly low-income families and individuals.
Part I. Discovery
The discovery came about during my ongoing research of rental and commercial properties that are significantly under-assessed, which consistently reveals an unfair and inequitable local property tax system that favors owners of student rental properties and downtown properties over homeowners and those who manage small rental properties for families and non-students (see some of the original reporting here).
Over the last few years, I have regularly monitored both rental listings and large rental and commercial properties that are currently for sale.
For those rental/commercial properties currently listed for sale at a price of $300,000 or more, I do some preliminary investigation into assessment, recent sales transactions, as well as current owner.
At the start of 2020, while scrolling through Binghamton rental properties currently for sale, I noticed 162 Chapin listed at $615,000 (see below).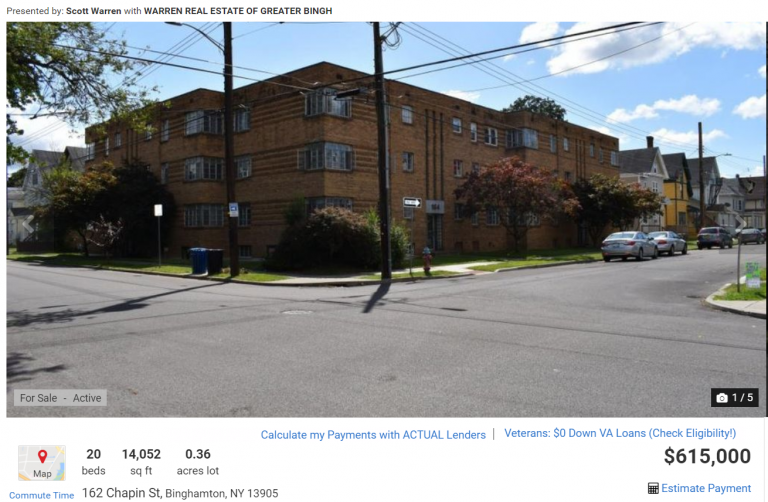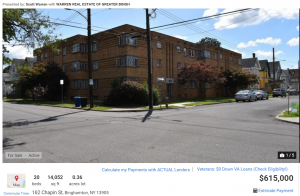 Consistent with my routine research, I first checked Broome County's Real Property site to identify the current assessment as well as the current owner and prior sales transactions.
I was not surprised to find the investment rental property is being listed for a sales price that is about 400% above it's current assessment of $170,000 (this is systemic, see article link above).
I was also not that surprised to see that a limited liability corporation (LLC) was the current owner. LLCs have become the standard legal tool used by real estate investors to hide their identity and, if needed, escape code enforcement and accountability.
According to Broome County's Real Property database for this property (see screenshot below), Chapin Street LLC purchased this property on July 13, 2018 for $550,000. I thought it was a bit odd that the owner would put the property up for sale at a 12% markup after owning it for less than 17 months.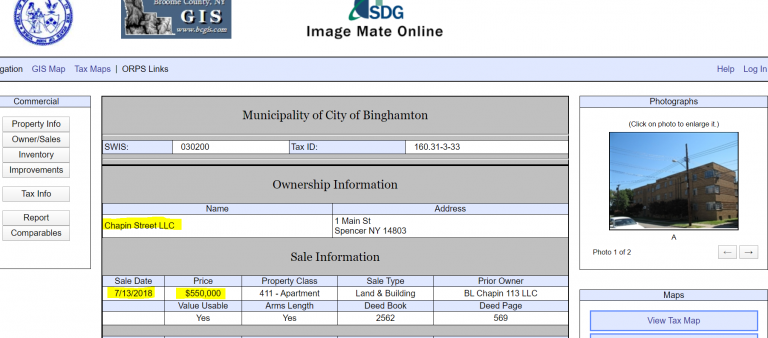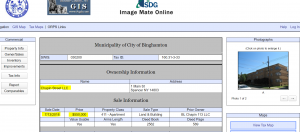 So I continued my research and went to the records search portal maintained by the Broome County Clerk's Office. I logged-in as guest, and searched for 'Chapin Street LLC.'
I found the deed and mortgage recordings, and was surprised to see Binghamton Mayor Rich David listed as the principal member of Chapin Street LLC.
As the online records confirm (and screenshots are included below), Mayor Rich David took out a mortgage of $440,000 from the Tioga Bank branch on Conklin Avenue, to acquire the property from local developer Josh Bishop. The mortgage identifies Rich David as the principal of Chapin Street LLC, and lists Rich David's downtown residence, 45 Court Street, as the primary address for Chapin Street LLC. Rich David's signature is also on the executed mortgage documents.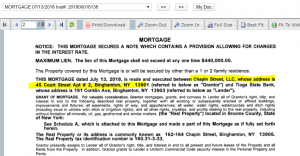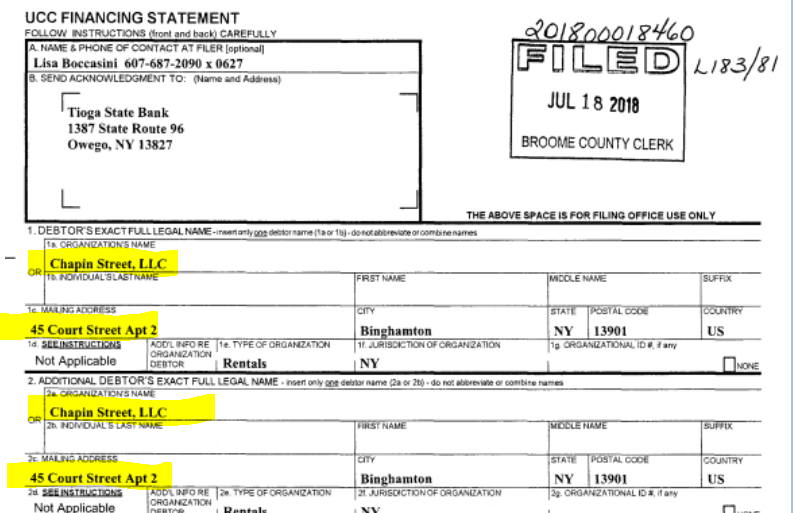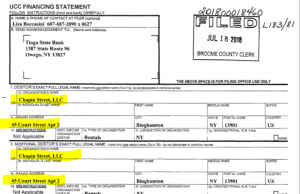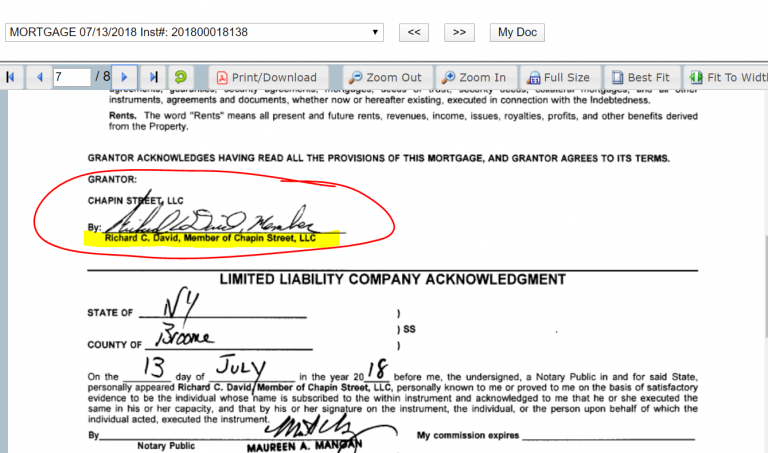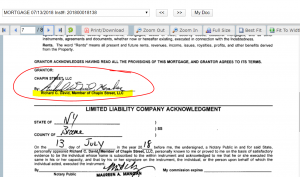 Toward the end of the summer of 2020, I noticed the property was marked "under contract" on the MLS, and shortly thereafter, the listing was removed.
All deed transfers are recorded with the Broome County Clerk's Office, so I checked once a week to see if the transactional detail had been uploaded. Eventually, I noticed new entries for 'Chapin Street LLC,' and confirmed the property had been sold on October 13, 2020 to 162 Chapin LLC for $590,000. The deed transfer indicates Rich David as the seller and as member of Chapin Street LLC, and Brock Cvijanovich as the buyer and member of 162 Chapin LLC.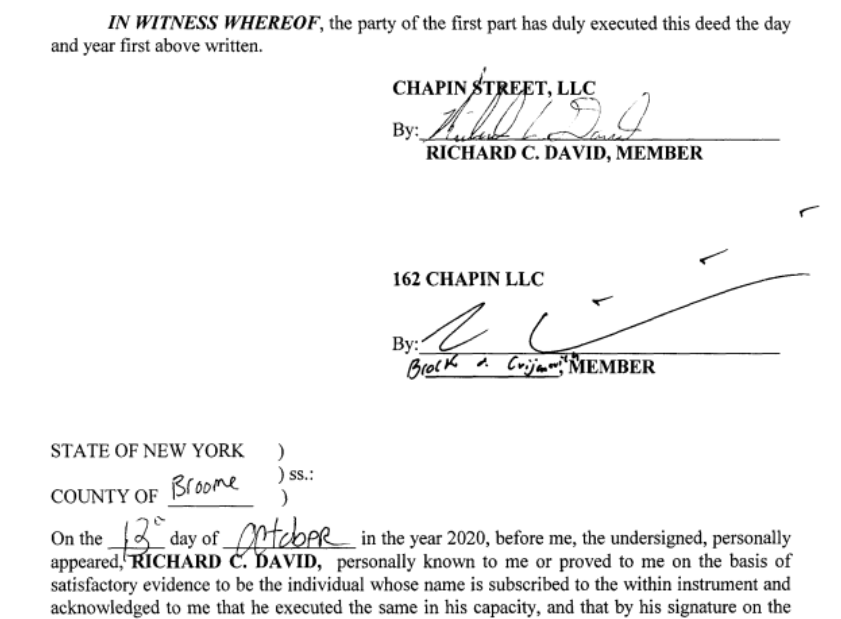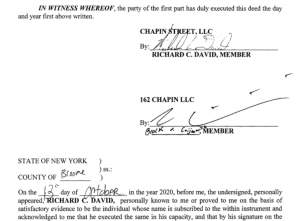 A quick google search tied Brock to KO Management, a downtown property management company that oversees a sizable portfolio of student rental properties for local and out-of-town landlords.
New York State also maintains an online portal to lookup registered LLCs. A query on 162 Chapin LLC initially showed the LLC registered to the primary residence of Jordan Ringden, one of the enterpreneurs of the successful brain trust behind the Colonial and Dos Rios restaurants. However, the LLC record was later updated, showing a new address of 40 Court Street, which is KO Management.
Part II. Perceived Conflicts and Questions
Mayor David promised his constituents that he would not buy commercial or investment property while holding office, largely because it could create a conflict of interest, real or perceived. Mayor David broke that promise, using an LLC to purchase a rental property for more than half a million dollars and then selling it for a sizable profit a little over two years later.
Not only did Mayor David break his promise to Binghamton constituents, but his questionable decision raises a number of troubling questions, the very conflict of interests he personally acknowledged such wheeling and dealing might trigger.
Question 1: Who did Mayor David buy the property from?
As mentioned above, Mayor David purchased the property in July 2018 from Josh Bishop, a successful and active developer of student housing and market-rate housing in Binghamton. In 2016, Bishop secured City approval to convert the Ridley Lowell building at 116 Front Street to student housing, packing 31-beds in three apartment units. Bishop also recently converted the Ellis Brothers building to market-rate housing.
But an investigation into Bishop's real estate transactions around the summer of 2018 raises some questions.
As reported in the Press and Sun Bulletin (9/13/18, Platsky), Bishop was finalizing financing for a major rehabilitation of 1 North Depot around the same time he sold 162 Chapin to Mayor David:
"Financing for the [North Depot] project includes $3 million in equity from the developer; a $2 million Empire State Development grant; and nearly $6.5 million in loans….Next week, The Agency is scheduled to approve a 20-year payment-in-lieu-of-taxes deal for the project. In the first year of the PILOT, the developer will pay $9,700 to the city, $2,100 to the county, and $9,650 to the Binghamton City School District. Over the course of the 20-year tax deal, it is estimated the developer will save more than $1.3 million in taxes from the PILOT." [Emphasis mine]
To clarify, Bishop's project at One North Depot, with strong support from Mayor David, secured $2 million in state grants through the Regional Economic Development Council in 2017/2018. More importantly, at the time of the sale of 162 Chapin to Mayor David, Bishop was in discussions with The Agency (formerly known as Broome County IDA) about the 20-year PILOT agreement mentioned in the Press and Sun article linked above.
At the bottom left of the form (picture A), note that The Agency staff correctly reported this as a "deviated" PILOT, which is anything more than ten years. And according to The Agency's own policy (picture B), a deviated policy can only be considered with the written approval of the local municipal chief executive, in this case Mayor David. And minutes of The Agency's meeting on September 19, 2018 (picture C) show the deviated PILOT was approved.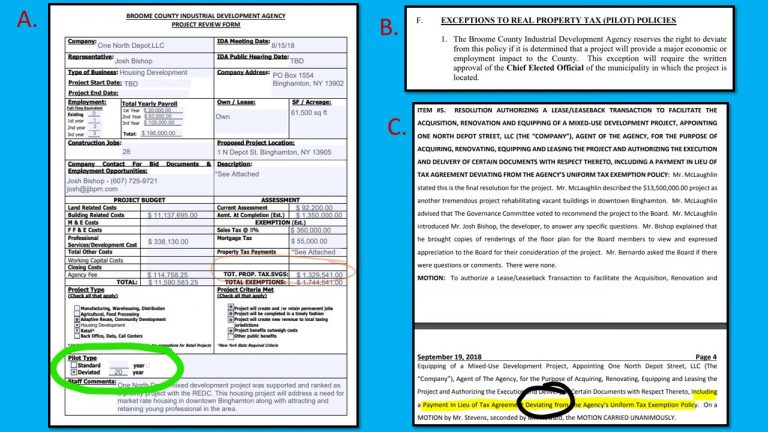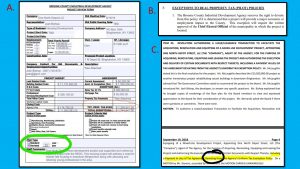 In sum, Mayor David quietly purchased an investment property from a developer of student rentals and luxury rentals a few months before the developer secured a $1.3 million dollar tax break that only Mayor David could approve.
Question 2: Who did the Mayor sell the property to?
Mayor David listed the property for sale (at a price that was about 12% higher than what he had paid for it) about a year and a half after he purchased it.
This property is what's considered "naturally occuring affordable housing," in that rents are reasonable, the quality of the property and units are average, and the residents are diverse.
But in October 2020, Mayor David sold this property to the owner of a property management firm that publicizes an almost exclusive focus on lucrative student housing and who is loosely tied to an influential network of BU alumni, local investors, and a downstate equity firm that I'll call the "Colonial Investment Club" (CIC).
But investigation into CIC's real estate transactions at the time a few members purchased 162 Chapin Street from Mayor David again raises questions.
Around the time of purchase, members of the CIC were developing Stone Fox, an upscale pizza joint at the corner of Hawley Street and South Washington Street. According to City sources, the permit for the project was being held up by the City's Building Inspector because, among other items, the outdoor porch was in violation of zoning regulations and encroached on public space.
According to City Hall sources that requested anonymity for fear of retribution, Mayor David urged the Building Inspector at the time to "let it go" because "they are my friends." The Building Inspector refused to budge. Mayor David then fired the Building Inspector, and convinced Binghamton City Council to sell a sliver of the public commons (Parlor City Commons) to CIC as a way to solve the problem (see 9/9/20 resolution below).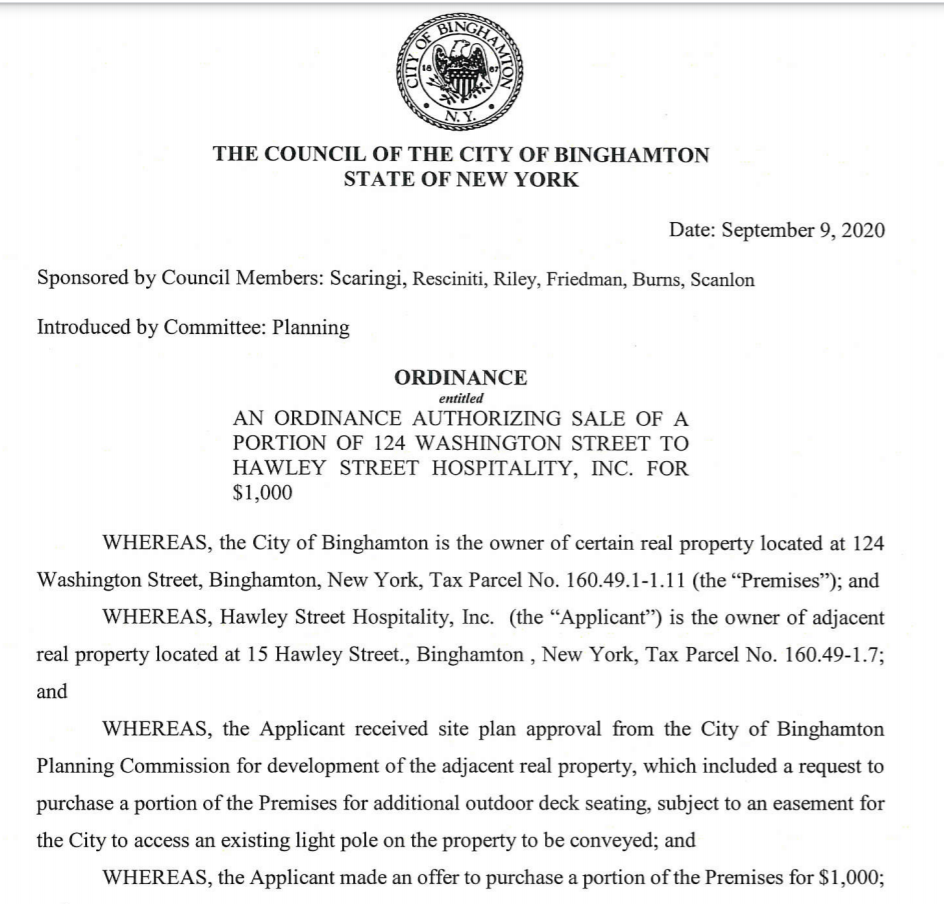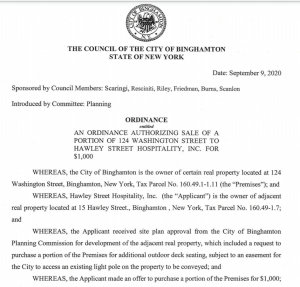 One month after Mayor David sold a sliver of the public courtyard (Parlor Commons) to members of the Colonial Investment Club to resolve their zoning challenge with their latest restaurant venture, other members of the Colonial Investment Club bought 162 Chapin Street from Mayor David.
Part III. Another Rental Property with Affordable Rents Lost to Market Rate Housing
As mentioned previously, 162 Chapin was a rental property with 20 units that housed local families at affordable rates. Not any more, apparently.
The property is currently listed for sale for $1,249,000 (see picture below). The listing touts that 8 of the 20 units have been upgraded, which implies the opportunity to spike the rent to "market rate" levels ($1,200+), potentially displacing the residents that benefited from the long-time affordable rents to make way for more students.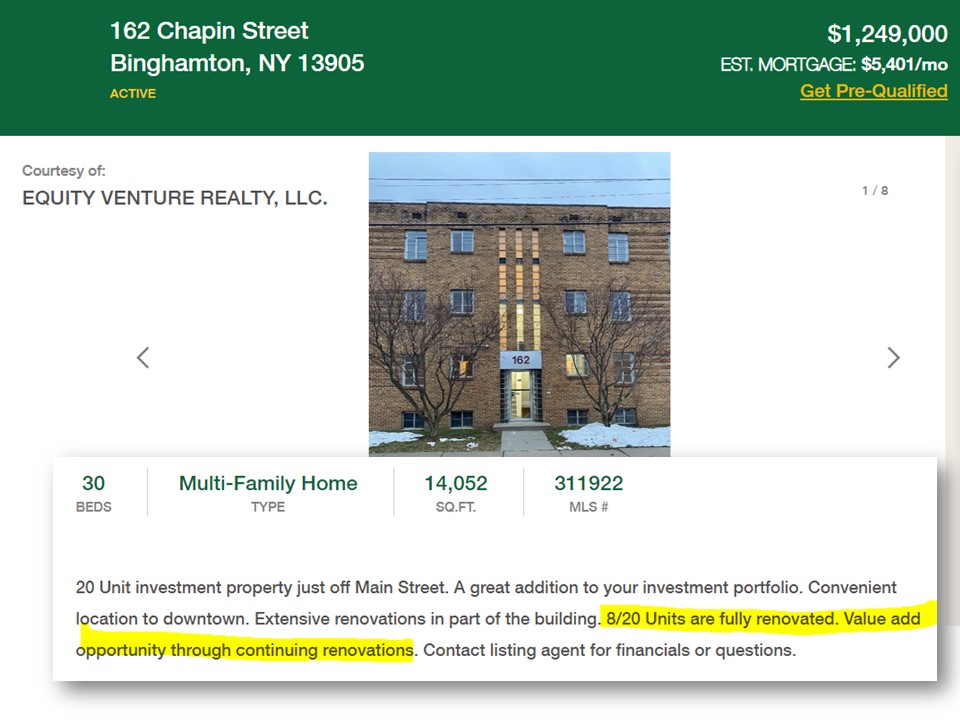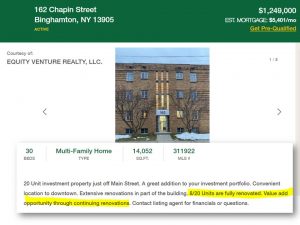 Interestingly, the property is being listed by Equity Venture Realty (EVR), a new three-member brokerage firm that includes the owner of KO Manage. According to EVR's website, this new real estate brokerage firm offers exclusive services to those "who want to own investment real estate but don't want to deal with all the headaches of finding an investment, completing a purchase, managing a property, and selling or refinancing the property in the future."
---
I write these investigative pieces with two intentions: (1) uncover unethical conduct and corruption by our local officials, and (2) educate others how to access public documents to hold our leaders accountable.
I hope my links to the online portals are helpful, and I encourage others to use these to try to draw more light to those who'd rather hide in darkness. And if any user has questions, please don't hesitate to reach out at modocpress@yahoo.com.