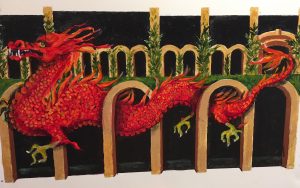 A new feature of LUMA is "Mural Mapping" will project still images by local artists onto the Atomic Tom's building on State St. Nineteen images will be projected in a loop on both Friday and Saturday Sept. 7-8th 9 pm to midnight; each will create a temporary mural for about two minutes. The originals will be on display at the Cooperative Gallery 213 State St. for the entire month of September.
Dragon by Judy Salton and below Carousel by 12 year old Molly Jablonowski. For more about Luma activities for the weekend at Lumafestival.com.
Presented in cooperation with the Dept of Public Art and the Cooperative Gallery.
Sponsored by Northeastern Striping