The Dept of Public Art has been working this year to paint mural panels for boarded up buildings in the Triple Cities. At the Bridge Pedal event, 5 artists painted a re-work of Kareema Scurry's "SuperHero" mural at Floral Ave Park in JC.  (The original had deteriorated due to weather.) A building on Glenwood Ave. which had two murals got an upgrade with two new panels. DPA just received twelve submissions for a building on Clinton St.  Now they have issued a second call for designs for a large building on Upper Court St.  Download the Call for Designs here.
The Dept of Public Art is beautifying blighted neighborhoods with the help of two grants, as well as fundraising. DPA received a grant from the Decentralization Program, a re-grant program of the New York State Council on the Arts with the support of Governor Andrew M. Cuomo and the New York State Legislature, and administered by The Earlville Opera House. Additional support for the Broome DEC Program graciously provided by the Stewart W. and Wilma C. Hoyt Foundation, Inc. The group also has support from Broome County through a Beautification Program with funds from the "Hotel/Motel" levies.
Dept. Of Public Art CALL FOR DESIGNS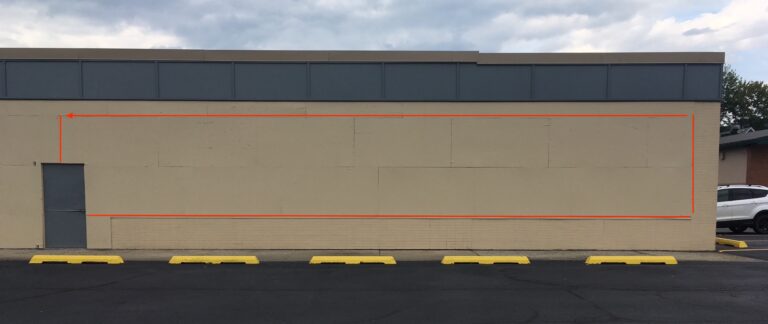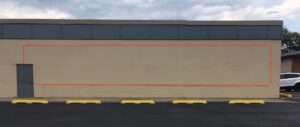 For 345 Upper Court St. Binghamton  
Dick's Sporting Goods 
Specifications: The building is clad in ½" plywood in 4'X8' panels, with some irregularities but otherwise in good condition. It is painted tan, the color shown. The square footage is approximately 405.32 sq ft and the mural will be placed as indicated above.  Length is 48′ 21 " on lower tier of plywood and 48′ 43" on the upper level due to door. There is a length of building to the left of the door which is not part of this installation. This mural will be painted on site on the existing surface. Exterior latex paint may be used, or aerosol, or air brush. However, representatives of Dick's ask that if the mural gets defaced or damaged that DPA repair it, so this may affect choice of paint. Additionally, DPA has some exterior paint that can be used; whereas aerosol or air brush is at the artist's own expense. 
Concept: Since Dick's Sporting Goods has an interest in this mural, and its store is next door, DPA is looking for a sports related theme, with color, action, and figures large enough to be seen by passing motorists. Since this is the 50th anniversary of Title IX, legislation which enabled women athletes to participate more fully, DPA is also interested in themes of women in sports.  
Deadline: Because of the delay in getting approval, we are setting a deadline of October 2nd, 2022 in order to have enough time to paint while the weather is warm enough. If you are not already registered with our call for artists, please do so; email renderings of your concept to deptofpublicart@gmail.com. These should be in color and to scale as above.  
Payment: The entire project, as detailed above, is budgeted for $4053.20, which may require the artist to buy paint. If assistance is needed, we have a roster of qualified painters for hire at $25 per hour. Payment on completion of mural.