UPDATE: Art Talk on third Thursday Oct 20 7 pm in person at gallery or via zoom.
The COVID pandemic indirectly inspired Karen Kuff-Demicco's new exhibit "Walking Down the Street" at the Cooperative Gallery 213 October 7-29th, 2022. Karen asks the question, "Have you ever had times when you are walking down a street, driving a car, or just going about your business when random thoughts enter your mind?   You see or hear something that triggers memories or just captures your imagination.  My show is based on these moments of inspiration."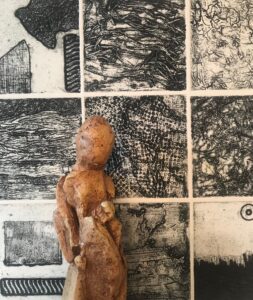 The sculptures, prints and paintings in the show represent her actual local travels during COVID and are explorations and reactions to the abstract, magical and real world. "Walking Down the Street" opens First Friday 5-9 pm and throughout the month of October Fridays. 5-8 pm and Saturdays 11 am- 3 pm. 
"The work in my show was all created during COVID, a time when I did not physically go far away.  These sculptures, prints and paintings represent actual travels; explorations and reactions to the abstract, magical and real world."
Karen Kuff-Demicco is primarily a ceramic sculptor. She has played with clay for over 35 years.  Her recent work has also involved printmaking at Equinox Press in Endicott, NY.  She has a BFA in Sculpture and degrees in Geology and Urban Planning.  She spent many summers attending NYS College of Ceramics at Alfred University and has been a resident at Anderson Ranch Arts Center and Watershed Center for Ceramic Arts.  Currently she is president of the Cooperative Gallery 213 in Binghamton, NY. 
The Cooperative Gallery 213 has been featuring local artists for 22 years and continues to accept new members. Supporting and exhibiting members can participate in Life Drawing second and third Mondays and in the Holiday Show Dec. 2-24, 2022. Inquiries at the gallery or email cooperativegallery213@gmail.com.