Broome County Arts Council Presents November First Friday and Launch of First-Ever Broome Art Guide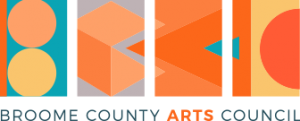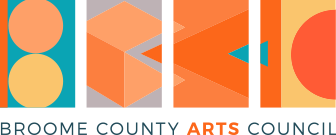 BINGHAMTON, NY.
Broome County Arts Council is pleased to present
November's First Friday Art Walk
from 6PM to 9PM in Downtown Binghamton on November 5th, 2021. Exhibitions are free and open to the public. (Some additional events may have an admission fee). Original art will be for sale at most locations during First Friday. Consider buying a unique gift during this holiday season.
Additionally, the first-ever Broome Art Guide 2021, a free, full color 6×6 book of Broome County arts & culture, will be available at participating galleries on First Friday night. This year, BCAC showcases new work by emerging artists Gabe Morton-Cook and Liam Axton, as well as a diverse array of established and new artists, musicians, and performers. The Broome Art Guide program is made possible by the Stewart W. and Willma C. Hoyt Foundation.
First Friday Art Walk participating open galleries and creative spaces include:
Orazio Salati Studio and Gallery: 2 Person Exhibition, Cindy Henry and Viggo Holm Madsen
Cooperative Gallery 213: Three Artists in November, Bill Gorman, Geof Gould, Eileen Schlag
Portrait Art Studio: Portrait, Dr. Reda Abdelrahman
Garland Gallery: Live music by singer/songwriter Pat Raube
Kilmer Mansion: Art and Live Music, the Fine Arts Society of the Southern Tier and Bob Alan Bricks (5PM – 7:30PM)
Roberson Museum and Science Center: Memories of Braided Lives by Various Artists (Admission $4)
Artisan Gallery @ Taste NY: Breathe in NY, Exhale ART! Annual Members Exhibition
Discovery Center of the Southern Tier Kids Commons Gallery: Bookends, The Memory Maker Project (5PM – 7PM)
Phelps Mansion Museum: Those Who Crossed Barriers, PresentArts (Admission $15)
Bundy Museum of History and Art 2nd and 3rd floor galleries: Rubbish, AmarA*jk (7PM Live music by Making Strangers)
Binghamton Photo: Expired, Eric Yetter
The Broome County Arts Council is proud to continue First Friday with the generous support of M&T Bank, the City of Binghamton, Visit Binghamton, and Wegmans. We encourage visitors to review and observe all safety requirements for each venue. Exhibition information is available on our website:
https://broomearts.org/in-the-community/first-friday/