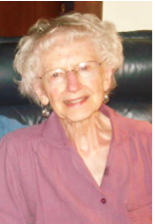 Iris Thor died on April 2. She was 96 years young. Iris was born in Buffalo, NY and was predeceased by her parents, two brothers and husband Harry A. Thor.
Iris graduated in 1948 from the University of Buffalo with a B.A. in Sociology and Anthropology. While working toward an M.S.W. and serving the city of Detroit as a caseworker, she met and married Harry A Thor, a graduate in engineering from Carnegie Mellon University. They settled in Buffalo where Harry earned an M.B.A. from U.B. and Iris worked as a children's caseworker. They raised their 3 children in Buffalo, and after 10 years moved to Canton, NY where Harry received a Divinity degree. While Harry served Unitarian Universalist churches in Montclair, NJ, Binghamton, NY, Tallahassee, FL and Athens, PA, Iris assisted and supported his ministry in many ways. When Iris became the first director of the S.O.S. Shelter, Harry supported her work in domestic violence. Upon retirement, Iris's lifelong interest in art found expression as a quilter, creating paper and fabric collage, writing and gardening. Their shared values included a deep commitment to social justice, respect for human and all life forms, a world without war, a responsibility for nurturing and sustaining a healthy planet. They had 51 synergistic years together.
She is survived by her beloved children and their spouses: Norma Danielson (Todd) Lynn Thor (Stu McCarty) Harris Thor (Debra Ann). She was also gifted with beautiful grandchildren: Tristan Thor, Kristen Fallon, Candice Porter, Heather and Matthew McCarty, and great grandchildren: Shannon Gerlach, Christopher and Jessica Fallon, Jack and Sophia Porter, Arlo and Rachel Feirman, Natalee and Narissa McCarty. Brother in law Norman Thor (Dorothy) and their children, niece Audrey Cox, nephew Peter Basinski and cousin Margaret Siracuse also survive. Iris also leaves many very dear friends behind from her OWL Book Club and Collage Group.
Donations to her favorite organizations are encouraged. Some suggestions are: Seva Foundation, Southern Poverty Law Center and Democracy Now.
Please feel free to pass this on to any of her friends that would appreciate it.
"Live consciously, responsibly, creatively and joyfully" – D. Iris Thor