The Cooperative Gallery 213 presents as its featured show Time & Textures, an exhibition of 3 friends who met as art majors at the State University of New York, College at New Paltz in 1980. Specially for the Broome Co. Art Trail three artists—Judy Salton, MaryRose, and Betsy Jo Williams will be on display October 1st – 23rd, 2021.
Each of the three artists has a unique perspective & approach to their medium. The passage of Time is a given. Textures are what we have learned along the way.  Please join us for the Third Thursday Art Talk with all three artists via Zoom at 7 pm on Oct. 21. Access the zoom link here.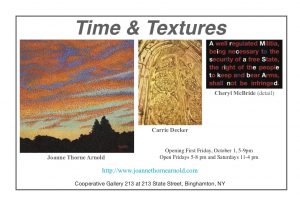 Joanne Thorne Arnold is a Binghamton based oil painter who perceives the sky as a symbol of time and the clouds, its personality. The presented work is all new and conceived during pandemic lock down. Carrie Decker is a Poughkeepsie based artist & founder of the non-profit Crazy Over Art on Tour Van. Her prints are a direct response from the summer of 2019 when Carrie & Joanne attended Art New England in Bennington, Vermont. Cheryl McBride, is a Long Island art professor whose work is based on data driven responses of societal ills. She is inspired by the W.E.B DuBois exhibition at the 1900 World's Fair in Paris. Her work is conceptual, thought provoking and invokes conversation.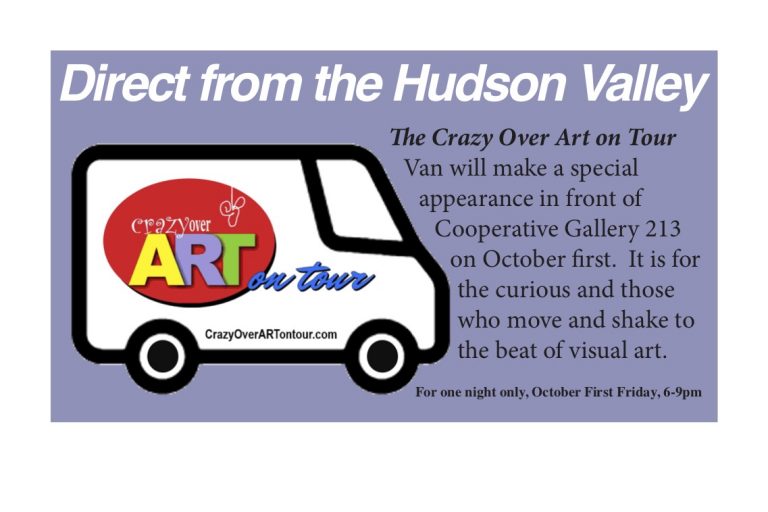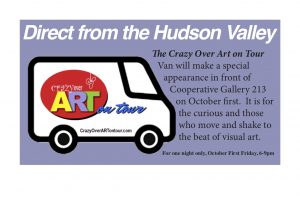 The Crazy Over Art on Tour Van will make a special appearance in front of Cooperative Gallery 213 on First Friday, October first. It is for the curious and those who move and shake to the beat of visual art.
Gallery hours are Fridays, 5-8pm, Saturdays, 11am-3pm and by appointment with the artists. Masks are required upon entry.
Marche' Sale: During the fifth week of October the Gallery's biennial Marche' an artists flea market will be open on Thursday Oct. 29th 5-8 pm as a ticket event with food and music, and to the public Friday and Saturday 10 am-4 pm with markdown of items each day. Art, art supplies, decorative household items, linens, glassware, jewelry, furniture and art books will be sold. Donations of good quality items are sought; email cooperativegallery@gmail.com.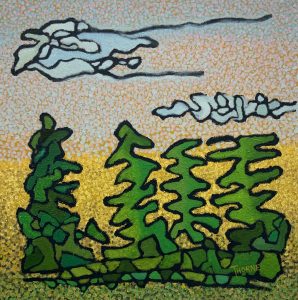 The Cooperative Gallery 213 State St. is in its 21st year of exhibiting local artists and engaging with the community. It has pioneered keeping art on display in person and virtually, with precautions, since August 2020 during the pandemic. The online store is a new feature containing the current show and members' works. https://gallery-213-on-state-st-inc.square.site/ and the gallery has a website at www.CooperativeGallery.com and keeps an active Facebook and Instagram.