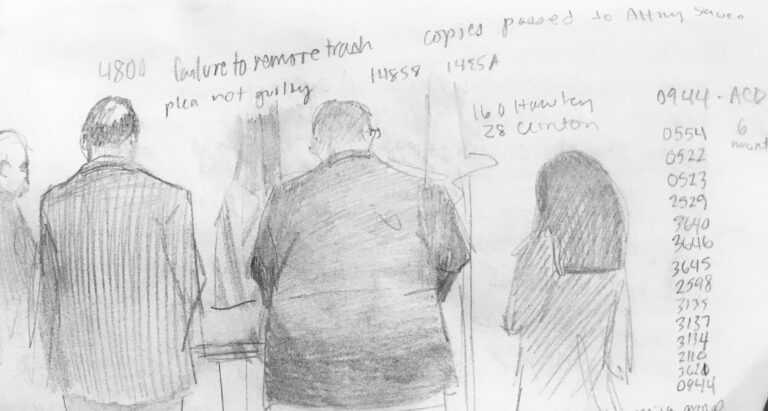 Below is a summary of the hearing on January 11, 2023 between The People of Binghamton vs. Isaac Anzaroot. The hearing addressed multiple code violations committed by Isaac Anzaroot and his property management in Binghamton, NY. He is known for his mismanagement of the Masonic Temple rehabilitation, 95 Court Street condemnation by code, and countless reports of unsafe housing conditions for his rental apartments.
The maximum fees (fines) assigned to his code violations were capped at $1,000, with the others being a maximum fine of $500. These were the minimums offered by the city code statute, and negotiated between Anzaroot's legal team and the People's representation, Binghamton city legal counsel Brian Seacrest.
Anzaroot is on "conditional discharge," described as a requirement to be one year out of trouble with code or else he could be re-sentenced to additional fines or jail.
For Anzaroot's defense, his attorney Sacco offered the following excuses to not receive the full fines for his multiple code violations:
Claimed he was a "victim of lockdown" and couldn't collect rent
Vagrants and criminal activity actively destroyed property faster than he could repair them
He has four children
At the time of trial, there were 16 properties at issue. It was argued that the "public has interest in less than maximum fine." Anzaroot plead guilty to dockets 1071 ($250), 1498 ($1000), 1804 ($250), and 1621 ($250) and the rest of the properties will be addressed in the next hearing.
He is scheduled to appear again in Binghamton City Court at 1:30 p.m. Monday, March 27, to address more code violations for his local properties.
Attendants showed up to the hearing on January 11 because of Anzaroot's longstanding reputation for mismanaging local historical properties at a profit for him, and a detriment to the people who live here. He was seen shaking hands with code enforcers at the end of the hearing. While affordable housing continues to be an issue for the City of Binghamton and it's surrounding neighborhoods, it is of vital importance to hold a standard of safety and livability for the housing stock that we do have.