"warm to the touch…and cold as ice"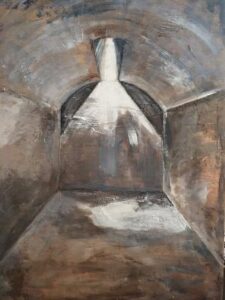 Judy Salton and MaryRose present companion exhibits in the Cooperative Gallery 213's June show opening First Friday June 3rd running through June 25th, 2022. They were inspired by a visit to Eastern State Penitentiary in downtown Philadelphia, built in the 1800's, closed since 1970, and now open to the public. Their show "warm to the touch…cold as ice" opens at First Friday Art Walk June 3rd 5- 9 pm, and is open other Fridays 5-8 pm and every Saturday from 11 am to 3 pm. There will be an Art Talk on Third Thursday June 16th at 7 pm. Both artists will be at the gallery in person opening weekend and during regular hours the weekend of June 17- 18th, and Friday the 24th.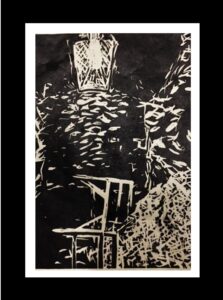 MaryRose's presentation "warm to the touch…and cold as ice" is of large-scale figure drawings evoking the warmth and softness of human touch interspersed with wood block prints of "cold stone ruins." Salton says that her paintings and photographs "depict empty crumbling prison walls that echo voices of past lives. It felt like the souls of the incarcerated were present." MaryRose's block prints are "flat wood scoured by knife to allow empty cold shadows as reminders hopefully, so that we can see and can learn."
The Cooperative Gallery 213 in Binghamton is in its 22nd year of presenting local artists' work and sustaining a community around visual arts. A regular feature is Third Thursday Art Talk with current exhibiting artists presented by Zoom and in person, this month on June 16th at 7 pm. The downtown gallery is open Fridays 5- 8 pm and Saturdays 11 am to 3 pm and by appointment. The gallery publishes a weekly e-newsletter and provides images and videos of shows on its social media and website. For more information email cooperativegallery213@gmail.com.